Anyone who has worked with digital documents in PDF format has often encountered poor design or outright data errors. Such flaws are difficult to correct, since PDF is difficult to edit. However, there are many online services that allow you to white out PDF files white in a few steps and place new information on a white area.
Today, we'll tell you how to white out on PDF to cover certain parts with white space. Follow the instructions below to get started.
How to white out a PDF file online
Open the PDF editor in a browser.
Click the "+ Add file" button to open the PDF document, which you can further edit and remove unnecessary text or graphical objects.
Select the "Whiteout" tool with the eraser icon in the menu on the left and use the mouse to stretch a rectangular area over the element you want to cover.
Click the green "Export" button to save the applied changes.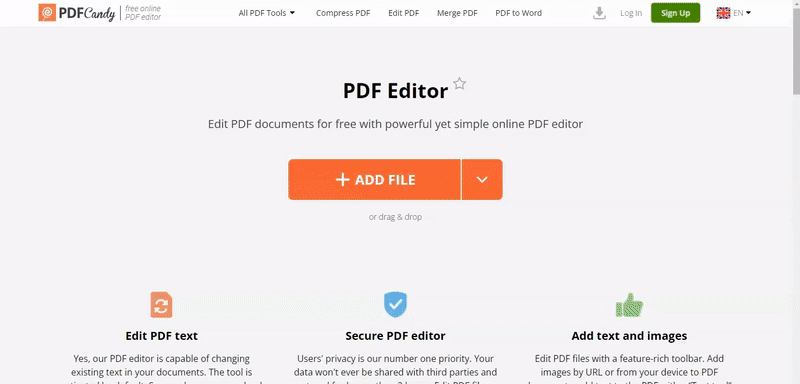 Add new elements to PDF over the whiteout area
If you want to add another object like text, graphic or image, open the online PDF editor again and select the recently saved file.
In addition to the option to white out PDF, our online PDF editor allows you to:
Edit the existing text to correct spelling errors and punctuation;
Highlight PDF: words, sentences, and whole paragraphs to draw the reader's focus to important information, such as the cost of contractor services in a contract, etc.;
Draw with "Pencil" tool directly on PDF pages. This allows you to underline or specify some information inside the text or graphics with a freehand;
Use "Rectangle" tool to mark a specific area of the document;
The "Line" tool, according to the name, makes a straight line. Underline desired content, cross out incorrect information, and other manipulations based on the user's needs;
"Add image" inserts a graphical object. This can be done from the memory of your PC, table or mobile device, as well as via a direct link to a picture from stocks and other websites;
"Underline" and "Strikeout", according to the name, affect the PDF text;
"Signature" allows the user to leave their own autograph in the document. You can do this in three ways: write the content in text, draw it with your mouse, or insert a ready-made picture into the file.
Our PDF editing service has all features to work completely online without cluttering up your hard drive space. You can upload the files from Google Drive or Dropbox cloud storage, and save it back to the needed storage after all modification.
Advantages of the online PDF editor
Works on a free basis.
Does not require any installation.
Offers a great variety of tools for PDF editing.
User-friendly and intuitive interface.
Can be accessed from all devices, regardless of the OS.
Does not require PC with high technical spec.
Fast data processing.
Google Drive and Dropbox support (both upload and download).
All uploaded files are permanently deleted within 2 hours.
Link creation for effortless sharing.
How to white out on PDF: Summary
In various cases, you may need to white out on PDF document. Don't worry if you made a mistake in an important document and don't know what to do. Our service will help you fix all the flaws in papers in just a few easy steps.
Additional online PDF editing tools
Split PDF if you figured your document contains some extra pages and you want to get rid of them.
Sign PDF in 3 different ways if you were working with some papers or contracts.
Crop PDF if you want to crop out extra whiteout you previously added to your file.