If you've come to the point to google 'what is a watermark' or 'how to watermark a PDF', you'll get the answers immediately in this article.
What is a Watermark
A watermark is a digital mark used on all kinds of files, including PDF files. The most common watermarks are images, patterns, and text visually superimposed on a file. Although they may seem intrusive at first, watermarks are a vital tool and are especially useful for people and businesses alike.
What are the watermarks used for
Watermarks serve more than one function. These include:
Restricting the use of images or documents to protect intellectual property.
As a visual mark or logo to ensure that the company's brand is displayed in documents.
As a security measure to legitimize documents and prevent misuse or fraud.
In written documents, helps keep track of their version (manuscript, draft, sample, approved version, etc.).
How to watermark a PDF
Now that we've answered the questions "what is a watermark" and what are the most popular uses for it, you can easily watermark PDF documents with our Watermark tool. Learn how to do it in just a few steps:
Upload a PDF want to watermark from your device or cloud storage.
For text watermarks, insert text in the appropriate box; otherwise, add JPG, PNG, and BMP images as watermarks.
Choose where the watermark will be located. You have 9 options to choose from or place it on the entire page.
Click the "Add Watermark" button to get the output watermarked file.
Download the PDF file or share it immediately.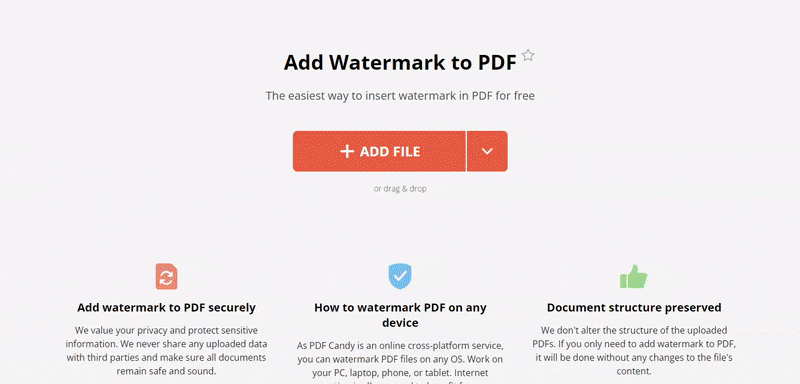 Since watermarks are intended to mark the entire file, in the case of multi-page PDF files you cannot select a watermark for individual pages. When you click the relevant button, all pages of the uploaded document will be affected.
As a workaround, if you need to watermark only some pages, you can first split PDF, watermark the desired pages, and finally merge PDF files back.
Why choose us to watermark PDF?
PDF Candy is a suite of tools designed to make editing and working with PDF files fast, easy and free.
We offer cross-device and cross-platform tools, which means you can use them right from your browser on the device of your choice; the service works equally well on Windows, macOS, Linux, and smartphones and tablets.
More PDF tools
Aside from adding watermark to PDF, you can also:
And much more! Take a look at all the tools we put at your disposal on the main page of the website.