DOCX format may not open correctly in text editors other than the latest version of Microsoft Word. Convert DOCX to PDF to keep your documents formatted when opened on any device. Especially considering the fact that you can view PDF in any browser.
To avoid forcing you to install anything extra, we offer instructions showing how to convert DOCX to PDF also in your browser.
How to convert DOCX to PDF online
Upload a DOCX file by clicking "Add file" or drag-and-drop it to DOCX to PDF converter.
The conversion starts automatically.
Download or share the new PDF once the operation is complete.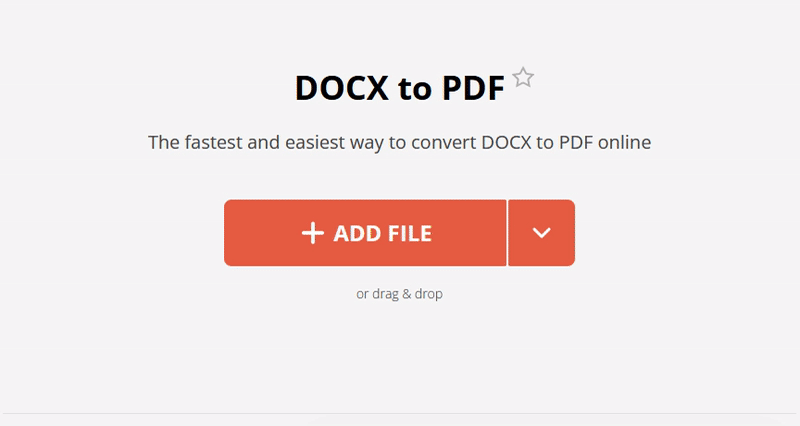 Why do I need to change DOCX to PDF?
PDF is a highly useful file type that allows you to share documents while ensuring that the formatting stays the same. While DOCX must be opened in one of the latest versions of Word. If you open such a document with OpenOffice Writer which is a free Microsoft Word alternative, the text formatting is likely to be lost.
What's more, when working with legal or contractual documents, a PDF also has the added virtue of ensuring that the recipient is not able to change any of the content without your approval or knowledge. While working with DOC or DOCX formats, anyone can easily edit files.
PDFs are more convenient for business and study, which is why one might need to convert DOCX to PDF.
Why else should you choose our text to PDF converter
Thanks to our cloud servers you will forget about the long wait. You get files converted from Word to PDF in a matter of seconds.
Also, our tool leaves no watermark on your documents, thereby ensuring that your document looks like you originally intended it to. Meanwhile, you can always add a watermark to PDF files manually as a text or upload an image.
In addition, you are guaranteed confidentiality. Any files you upload as well as output files are never stored or shared with third parties. We keep your data private and automatically delete content after 2 hours if you have not manually deleted it earlier. When working with private, proprietary or legal documents, this guaranteed security and confidentiality is very important.
We offer a wealth of other document converters, giving you rapid-fire ways to safely and efficiently work with and convert your essential work and personal files. To start exploring the wonders of our solutions as well as this Word to PDF converter online, head over to the main page now.
Try other PDF services
"Split PDF" – separate document pages, extract pages from PDF and merge them in a new file.
Alternatively, remove pages from a file with the "Delete PDF pages" tool.
Add page numbers to PDF – number your documents' pages, and choose the position and format to keep everything transparent and clear.
Compress PDF – reduce the size of the PDF file and select the compression level manually.