PDF format is widely used for exchanging documents. Sometimes you don't need to send the entire file to a particular party. Instead of redoing the entire PDF, it is helpful to simply learn how to remove pages from a PDF. The online method will save you time because you don't have to install any additional software. Moreover, you can use it on any device, regardless of the OS.
We offer you a free online tool to delete pages from PDF. Its intuitive graphical interface and high speed file processing make it the best process.
How to Remove Pages From PDF?
Follow the simple steps to figure how to get rid of extra pages in PDF:
Open the "Delete PDF Pages" tool in a browser.
Upload a document by clicking 'Add file' or drag-and-dropping. Alternatively, upload from your Google Drive or Dropbox.
Enter the page numbers or intervals in the input field with a hyphen, i.e., 9-15, 19-21. Or select the pages manually with a mouse click.
Hit the 'Delete pages' button to remove PDF pages of your choice.
Download the created file or share it.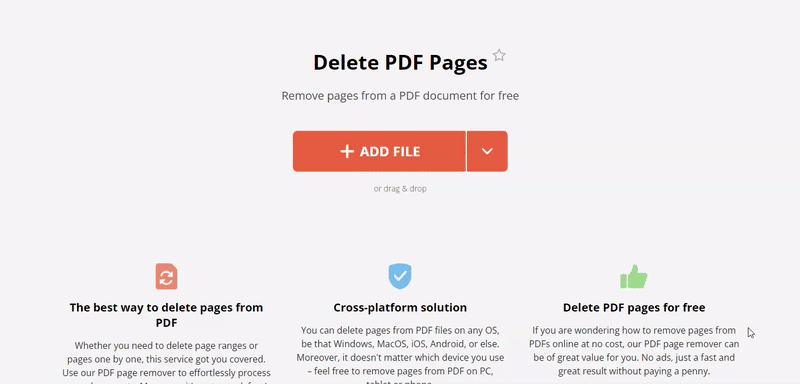 Benefits of our PDF page remover
As you can see in the instructions, you can delete PDF pages by clicking the thumbnails of pages or typing in their numbers. For example, you can highlight pages 8-10 and then simultaneously highlight pages 17-21 to delete. There is no easier way to remove pages from a PDF.
The best part about using our service is that you are not limited by devices or capabilities. We offer a free online tool, which means you can use any device, from your laptop to your smartphone. Unlike other PDF editing sites, our tools are available without registration and are free. Not only can you remove pages from PDF online, but you can also merge, split and edit a PDF.
Other useful tools for working with PDF:
Now that you know how to remove pages from a PDF and have realized how easy it is with PDF Candy, check out the other tools you can find on the site: