Most people who work with both paper and digital documents are familiar with scanners and PDF files. Well, OCR (Optical Character Recognition) is another technology that can come in handy for people like you. But what is OCR and what are its benefits? Let's take a closer look at it.
What is OCR?
As mentioned above, the acronym OCR stands for Optical Character Recognition. As the name implies, it is a technology that is used to recognize printed text appearing on images, photos, and scanned documents. Typically, people use OCR technology to convert images containing text (printed, typed, or handwritten) into data that can be read by a computer.
Although it may seem new, OCR technology has been around since the early 1990s, when people began archiving historic newspapers. Since then, the technology has continued to improve, and the results are now very accurate.
What is OCR used for?
The uses of OCR are endless. Most often, this technology is used when companies and people want to get text from an image. This can be the identification of people and their registration with companies, banks or security agencies. Mail sorting is another example where OCR technology can come in handy. Also, this technology is widely spread to convert scanned PDF files to text.
How OCR works
OCR technology includes both software and hardware. An OCR system analyzes the content of a physical document and converts the text it contains into processable scripts. The process can be described as follows:
1. Image preprocessing
First of all, OCR technology converts the physical form of a document into an image. This image is then converted into a black and white version and evaluated for darker and lighter areas (for easier character retrieval). The concept is then broken down into individual fragments, such as text, graphics and spreadsheets.
2. Character Recognition
Artificial Intelligence analyzes the dark areas of an image to recognize numbers and characters. Normally when recognizing PDFs, the OCR scanner recognizes one phrase, paragraph, or letter at a time. There are two types of recognition:
Feature recognition - here the algorithm follows rules based on character properties, i.e. intersecting lines, corners, curved lines, etc.
Pattern recognition - where the technology compares the detected letters with the learned patterns to find a match.
3. Postprocessing
In this phase, the AI corrects any flaws in the final text. For example, the AI can be trained using a glossary of words and phrases in the article. The AI can also use techniques such as nearest-neighbor analysis, which looks at words that frequently occur together. Sometimes the AI has difficulty with unfamiliar proper nouns, but you can add them to the document's vocabulary to improve results.
How will OCR technology benefit you?
OCR technology has many benefits. They include reduced effort, fewer errors, and less time. While photographing a document means that it can be stored digitally, OCR technology can also be used to search for and modify documents.
How to OCR a PDF online for free
If you want to use this technology but don't know how, PDF Candy offers a free online OCR tool. It's very easy to use. Find the guide below:
Open PDF OCR service in your browser.
Upload a PDF you need to OCR. The recognition will start automatically.
Download your file once it's processed, share it further, or upload it back to cloud storage.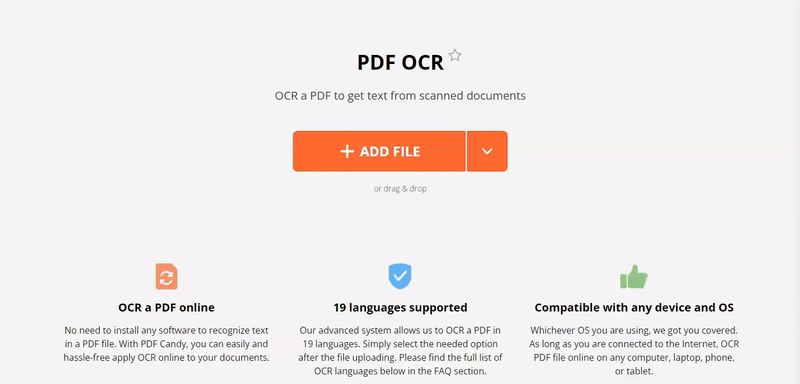 Bottom Line
Now you better understand the benefits of this wonderful technology and you no longer have to google "what is OCR". OCR PDF has undoubtedly become one of the most convenient ways of working with documents in the 21st century. You can try it for free with our service and get results right away.
Other ways to process PDF files:
'Edit PDF' – full-featured online PDF editor.
'Sign PDF' – put your own signature using text, drawing, or image format. No more paperwork.
'Merge PDF' allows combining multiple docs to organize your PDF files the way you want them.