DOCX format from Microsoft Word contains text information that can be easily edited. Use the online DOCX to PDF converter to change this format into a more reliable PDF. Why online? Because it's the fastest way, available on any of your devices with a browser installed.
Below you will find simple instructions for converting DOC and DOCX to PDF format.
How to use online DOCX to PDF converter?
You do not need to configure any additional settings. The entire conversion process takes place automatically. You only need to add the file you want to work with. Below are the simple steps showing how to convert DOCX to PDF online:
Upload your file to the DOCX to PDF converter by clicking '+Add file' file or drag-and-dropping it.
The conversion starts automatically.
Once completed, download the output PDF file, share it or continue editing it using other PDF Candy tools.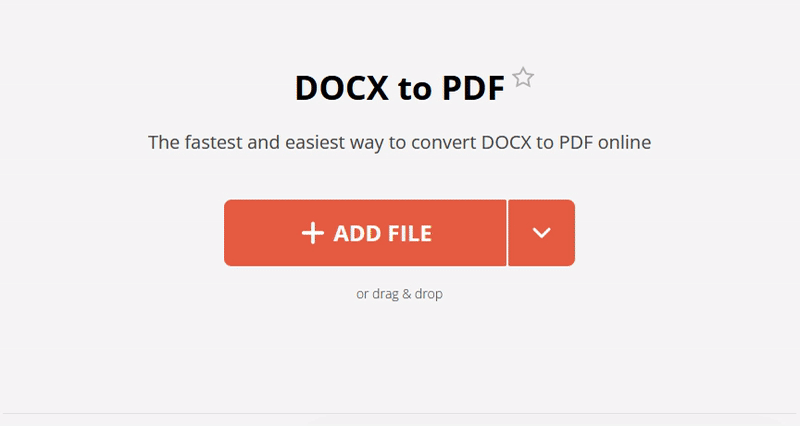 Why should one change DOCX to PDF
While Microsoft Word is one of the most popular software around, it has not been universally adopted. This means that some files produced by this text editor, such as DOCX files and earlier DOC files might not be opened by users who haven't purchased or installed Microsoft software. In order for you to easily share documents, it's best to use a file format that can be opened and viewed on any device. PDFs are the perfect file format for broad use, all that's needed to view a PDF is a browser. In order to make sharing your files simpler, you need the ability to convert DOCX to PDF.
Benefits of online DOCX to PDF converter
The best part is that after you use our online DOCX to PDF converter, you will be presented with multiple sharing options. For instance, there's an option is to create a URL link and a QR code to easily transmit the newly created file. Otherwise, you can upload the output document to Google Drive or Dropbox cloud storage.
We take privacy seriously. Following our Privacy Policy, all files uploaded and created are automatically deleted from our servers after a short period of time (2 hours). You also have the option to immediately delete your documents after using the online DOCX to PDF converter if you'd rather not wait. We will never share any of your private information with third parties, keeping your privacy and your documents secure.
Discover more tools
Now that you know how to use DOCX to PDF converter free of charge, you can look at some other features of our website.
Compress PDF – make any PDF document smaller in size to share it easily with your colleagues or friends.
Extract images – get all images included in your PDF file and save them separately one by one or in ZIP.
Rearrange pages – organize a PDF the way you like it, rotate and delete pages at your will.