Microsoft Word is a widely known and used text editor. However, not all the devices have this software pre-installed. Convert Word to PDF in order to share your reports, legal documents, contracts, university papers or presentations without formatting loss. Why? PDFs can be natively opened in a browser on the majority of computers, smartphones and tablets.
PDF Candy offers a straightforward free online solution for converting any Office documents to PDF. Read on to figure how to change Word to PDF in just a single click.
How to convert Word to PDF?
Head over to Word to PDF converter in a browser of your choice.
Upload your DOCX or DOC file by clicking 'Add file' or drag-and-drop it. Alternatively, there's a way to upload files from your accounts on Google Drive or Dropbox.
The conversion from Word to PDF starts automatically.
Save the file once the conversion is complete.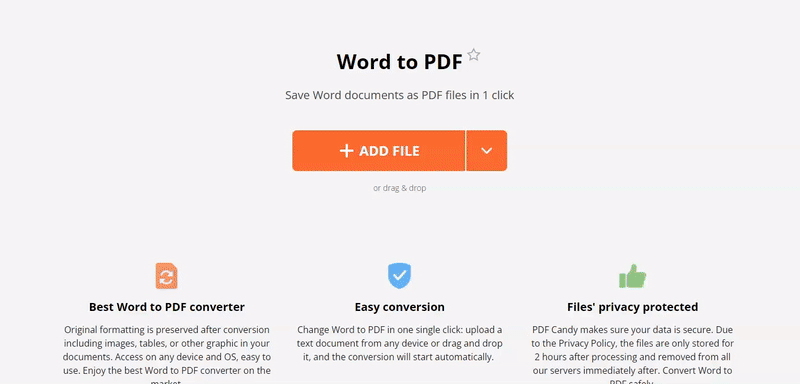 Benefits of converting Word to PDF with PDF Candy:
Posterior PDF editing
You can further process the created file. Add a watermark, password-protect your documents, rearrange pages, and edit the PDF after the Word to PDF conversion is complete. Please note, no watermark will be added to your original file after converting Word to PDF against your will.
Instant sharing
When you successfully turned Word to PDF, you can save your output file directly to the device or upload it to Google Drive and Dropbox to share as you please.
There is an option to create a shareable link which will be available for seven days. This link will be automatically deleted according to our Privacy Policy afterwards. However, the URL can be deleted manually beforehand if required.
Security matters
All files uploaded to our free Word to PDF converter are entirely safe and secure. We guarantee that all confidential and private files such as legal documents or sensitive documents will be secure and never stored or shared anywhere unless you decide to share the files yourself.
After converting DOCX or DOC to PDF, all your files will be deleted automatically after two hours. In addition, after changing Word to PDF, all files and links can be manually deleted when required using the trash bin icon.
Ultra-fast cloud servers
Thanks to the fact that the documents are processed by our powerful servers, output files can be delivered quickly and efficiently. If you are in a hurry when changing Word to PDF, we can deliver your PDF file extremely fast. Our online PDF converter allows you to process documents in seconds without installing any software on your device.
In this article, we shared the guide on how to convert Word to PDF. Now you can do much more with the created document.
Discover more tools
'Protect PDF' – password protect any sensitive information for safe transmission.
'Sign PDF' – insert your signature in any document using text, drawing, or image.
'Edit metadata' – easily view and edit a PDF file's author, title, subject, keywords, and more.