An online PDF combiner is essential in the digital age. It allows users to merge several PDF documents into a unified document without installing any software. This makes it easier to organize, share, and store information. The convenience of having all your files in one place is invaluable, especially when working with multiple files. The web-based PDF merger is an incredibly powerful resource for anyone who wants to manage their digital information efficiently and securely. Let's see how the best online PDF combiners are rated.
1. PDF Candy's Free Online PDF Combiner
One of the most popular features of PDF Candy is its online PDF combiner, which affords rapid and easy compilation of various PDF files. If you're looking for a way to combine your PDFs while avoiding downloading any software, then this is the perfect solution.
All you need is to go to the "Merge PDF" tool. Then press "+Add file(s)" to upload PDFs or drag and drop them. It is also possible to upload a document from Google Drive or Dropbox cloud storage.
In addition to PDF format, you can also add images. Rearrange files in the order you want or in alphabetical one by clicking the "Sort: A-Z, Z-A". If needed, add new files, or delete some. Finally, click "Merge Files".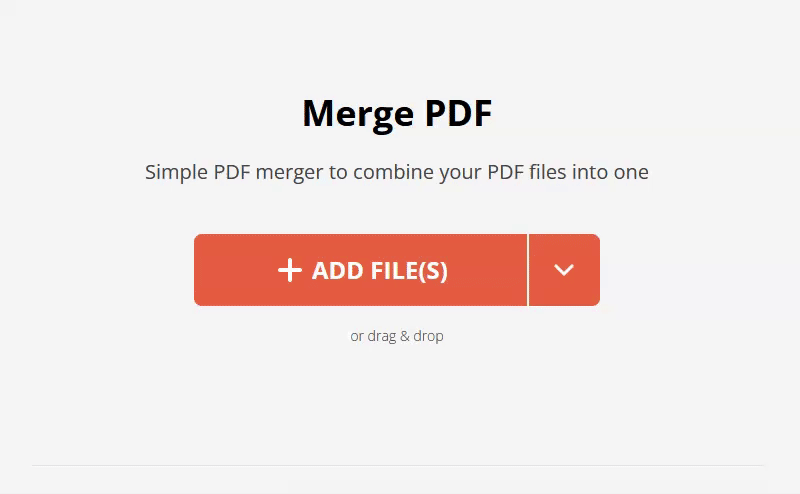 Multiple advantages come with employing this method:
You can combine multiple PDF files within seconds thanks to powerful servers;
No need for any special skills or software downloads - just drag and drop your files and let PDF merger do the rest;
All your data is processed and stored in accordance with GDPR regulations, so you can rest assured that your information is safe with us;
No sign-up or subscription is required to join PDF online;
Supported by the most popular browsers and operating systems. No matter what you are using - Windows Vista, XP, later versions, Mac or Linux - it will work perfectly.
The online PDF combiner can be an ideal solution for anyone looking for an easy and secure way to join multiple documents into one single file without any need to download any extra software or worry about privacy concerns. With its range of options, it's easy to understand why many people choose this tool to merge their PDF files. Give it a try today and see how much time you can save!
2. Combine PDF Files into One with Adobe Acrobat
Adobe Acrobat is a great tool for combining PDF files. It is intuitive and yields excellent results. Standard editing functionality is also supported. Nevertheless, it can be a little limited in this respect if you're used to other tools. There are certainly better alternatives if this is what you need to do most of the time.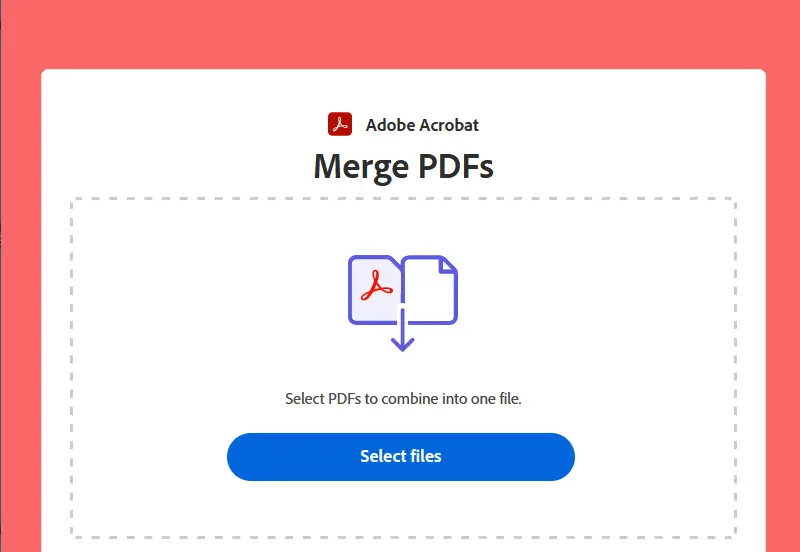 Pros:
Easy to use PDF merger;
High-quality results;
Can combine various formats (documents, spreadsheets, images) into one PDF file;
Able to delete or add pages to a PDF file composed of multiple documents;
Can merge different versions of a single document;
Can password protect PDF document.
Cons:
May take time with large documents;
Can't edit the text within the combined PDF file;
Require an Adobe subscription for the full package.
3. Online PDF Combiner by Soda PDF.
Soda PDF is a powerful online solution for merging PDF files into a solitary document. It's fast and easy to use, and you can trust the quality of the output. The tool is cross-platform: works on all modern PCs, laptops, tablets, and cell phones. However, in some cases, it can take a long time to convert large files. On the downside, batch options, commenting, PDF security, and form creation are not free.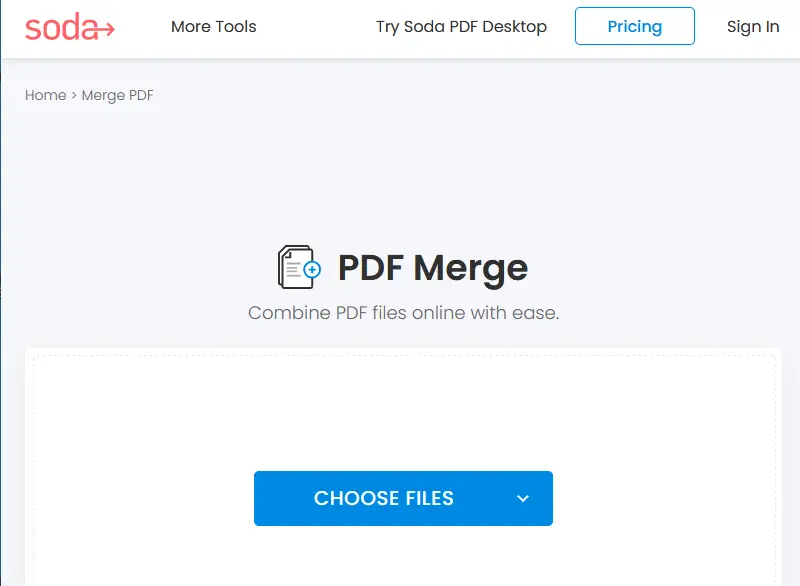 Pros:
There is no limit to the number of files you can add or drop to the PDF merger at any one time;
You can track the time of the uploading process.
Cons:
You can only combine PDFs - there are no other editing options available in the online version;
While the web version is available for free, its full desktop one is not - and that version offers more features.
4. Merge PDFs via iLovePDF
iLovePDF online tool makes it effortless to combine PDFs into one document. It's accessible without charge and functions with any web browser. Users can simultaneously work on multilingual documents and use the drag-and-drop feature to merge numerous PDF files from a single platform.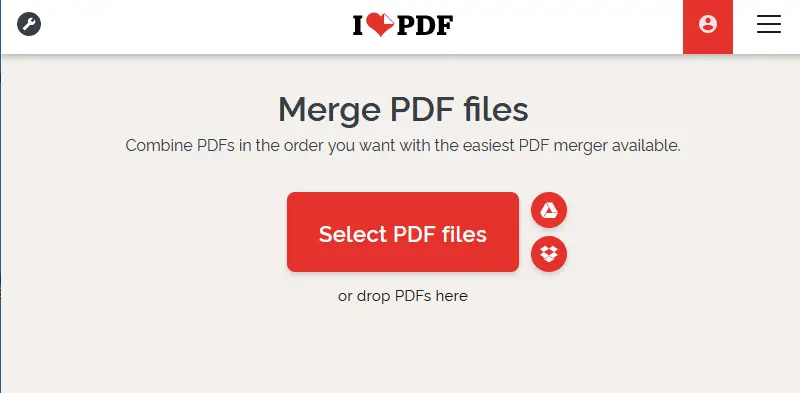 Pros:
You can rotate PDF documents before merging and order them by name;
Free to use PDF merger;
Compatible with all web browsers;
Can be accessed from anywhere with an internet connection.
Cons:
Reduced security since files are stored on a third-party server;
Combine only up to 25 PDFs at once for free.
5. How to Merge PDF Files with SmallPDF
SmallPDF is an internet-based online PDF merger that can enable you to quickly join together multiple PDFs into one. It's free, secure, and easy to use. For people with basic tasks, especially if it is a one-time operation, an app can help to get it done in a hurry. However, it would have limited markup capabilities for users looking for something more complex.
Pros:
Merging PDF files does not require any registration or payment information;
The user interface is intuitive and straightforward;
Supports many different file formats, such as Word documents and images, in addition to PDFs.
Cons:
Long time of uploading;
Only supports up to 20MB of data per file; larger files may need to be split before merging them;
Merge pages option is available only in the pro version;
You are limited to two files a day.
6. How to Join PDF Files Together with PDF Merge
Combining numerous PDF documents into a single file is a simple and time-saving task. Online PDF combiners, such as PDF Merge, provide an easy method of accomplishing this. It doesn't need installations and works pretty well with all operating systems. Note that the files would be deleted after 6 hours, which is longer than with other tools.
Pros:
The process is very fast and efficient, taking a few seconds to combine multiple PDF documents;
No technical expertise is required as the interface is designed for convenience;
Within 6 hours, all original and combined PDFs will be deleted;
There's no need to pay for expensive software or subscriptions.
Cons:
The basic version of the tool only allows the merging of files, without any additional features such as editing PDF and conversion;
The maximum file size is limited to 100 MB. Can merge only 20 files.
7. Merging PDF Files Digitally with DocuPub
DocuPub is an online service that enables users to join PDFs, organize, and share them quickly and easily. Using it, you can unite several PDFs into a single unit with ease. However, the PDF merger does not have a lot of other features. You can only merge, resize PDF and convert documents. Users may have questions about security as it is not known when the PDFs will be delisted from the server.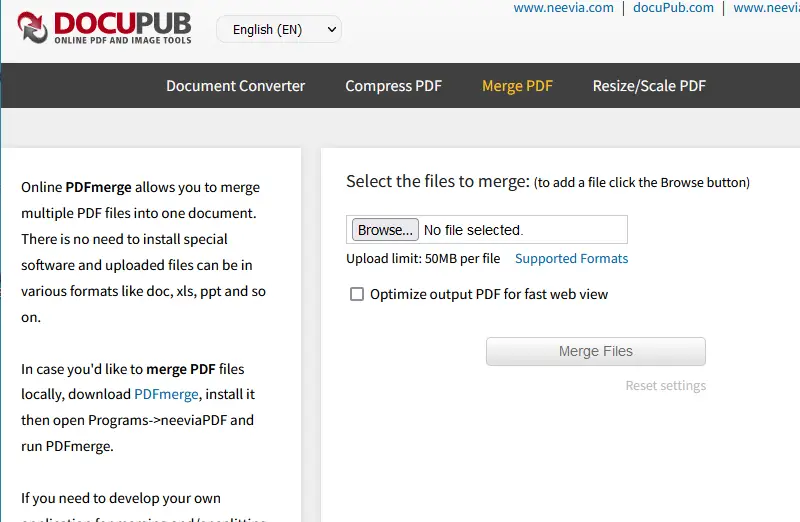 Pros:
Quick and easy process; no need for technical skills;
Can merge PDFs with Doc and other formats;
Possible to optimize the resulting PDF for fast web viewing.
Cons:
Free version of the website has a limited number of combined PDFs at once;
The site has only two language localization options;
Upload limit is 50MB per file;
Can't upload several files at once. Only one by one.
8. Joining PDF Files Online by Means of PDF24
PDF24 is an excellent web application for combining PDF files and splitting them. The tool is available in two versions - an online web app and desktop software for Windows. However, PDF Editor does not work as expected - it offers you to convert PDF to Word for better proceeding.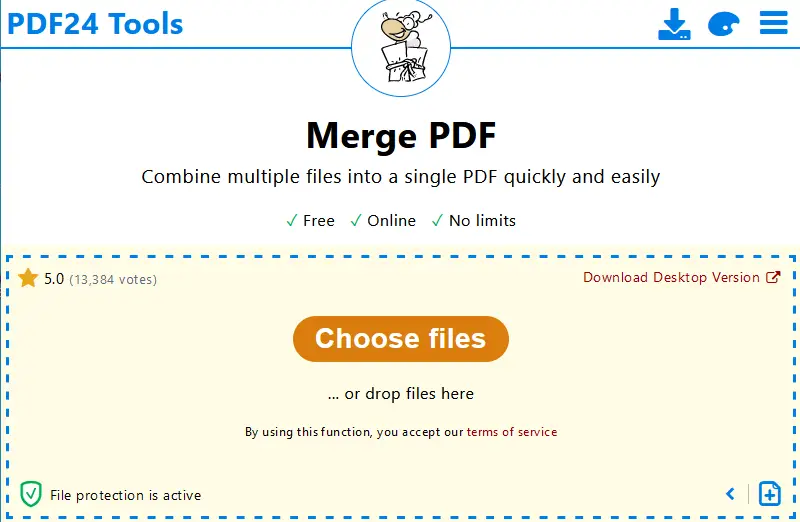 Pros:
Free for both personal and commercial use;
Allows you to rearrange pages before merging PDF files;
Page mode and creating bookmarks are possible;
PDF combiner has no size limit.
Cons:
9. Exploring the Way to Merge PDFs through Sejda
Sejda is an online PDF editor which enables you to combine multiple PDF documents. Utilizing it is simple and it offers benefits that make it a desirable choice for combining PDFs. On average, users comment that the tool is too expensive for such a simple PDF editor.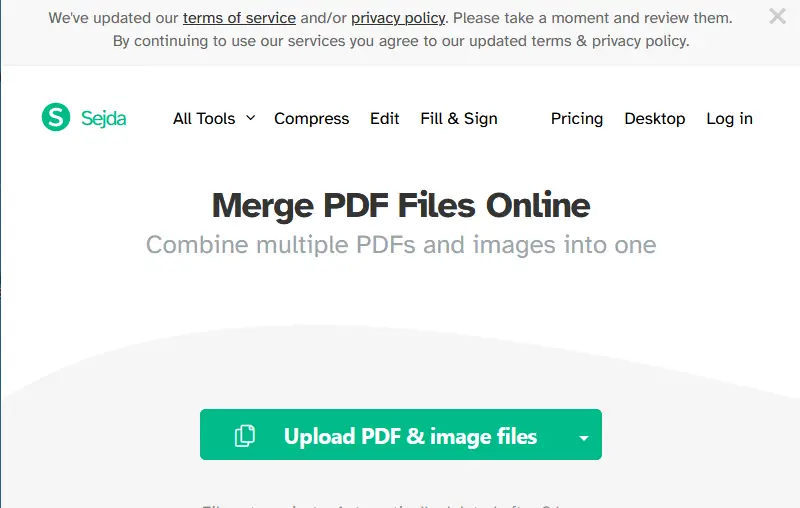 Pros:
Can join PDFs with images;
It is possible to reorder files by pages;
Duplication of pages is possible.
Cons:
Only three tasks per hour;
Limited up to 50 pages or 50 Mb;
PDF merger can combine up to 30 files.
10. How to Combine PDF Files with PDF2GO
PDF2GO is a free online PDF combiner helping you easily unite multiple PDFs into one. The process is quick and straightforward, with no need for any software installation on your computer. One of the disadvantages is that users of the free version will see a lot of advertisements on the website. An online kit has fewer server resources and therefore provides lower-quality PDFs.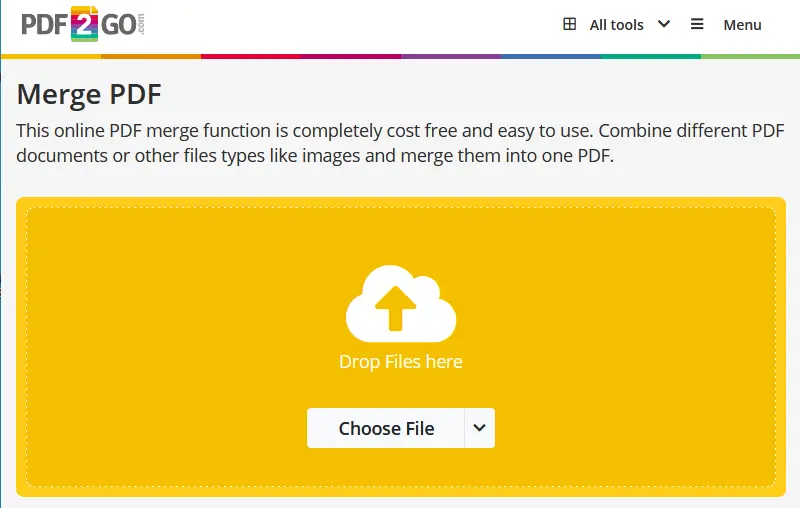 Pros:
You can arrange the order of your files ahead of combining them, and delete unwanted pages from the list;
It is possible to change the format of the output file pages by choosing standard ones or entering a custom size.
Cons:
You can only merge up to 20 files at once;
Merging PDF files is limited to 100 Megabytes;
For more functionality you need to buy a premium account.
11. Merge PDF Files for Free via DocFly
Using DocFly, you can easily combine your PDF files online with just a few clicks. It is a free, web-based application that allows users to join numerous PDF documents together into a single file.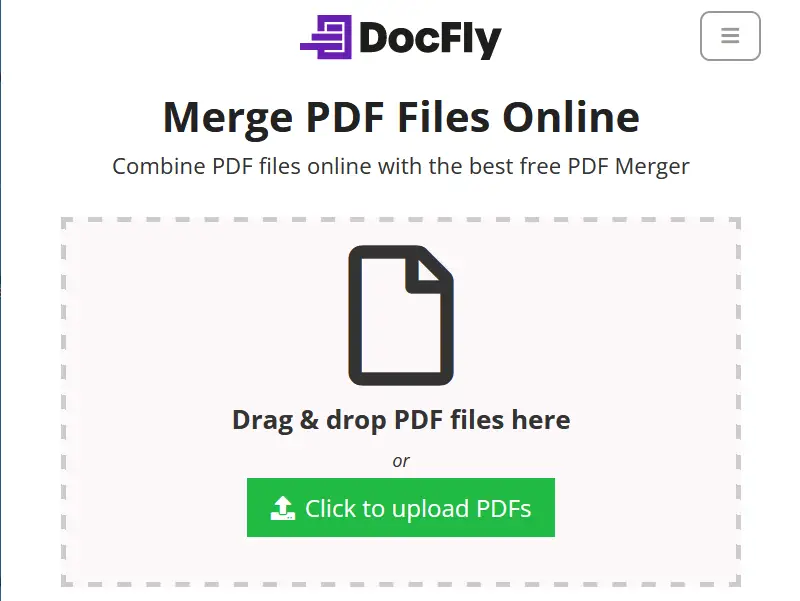 Pros:
Before online PDF combiner starts conversion, you can add an output file name;
Stringent data protection and privacy regulations.
Cons:
Freeware users are given 3 credits per month, so they can only export up to a limit of 3 files monthly;
Rotation is not available in the trial version.
12. How to Merge PDF Files with PandaDoc
PandaDoc is an online document management platform that allows you to merge PDF files together. Its intuitive interface makes this PDF merger simple to use, even for the most beginner users. People find that the tool's storage capacity is small and that to keep new files you have to delete old ones. And the support is quite poor.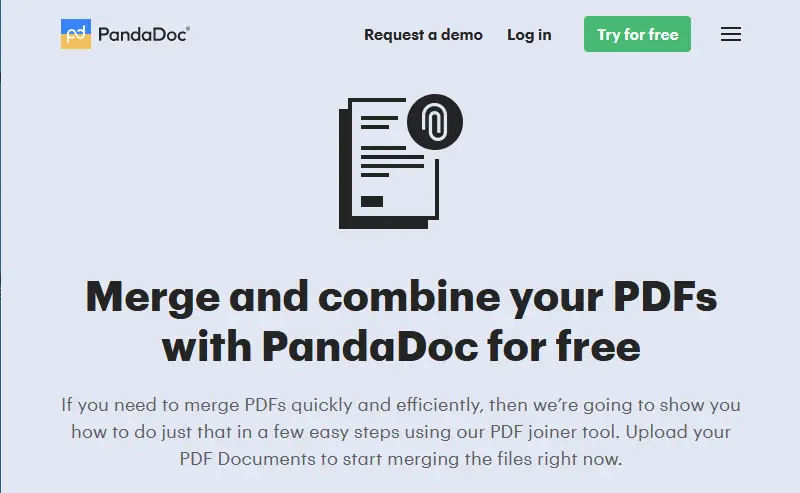 Pros:
Once you have loaded the merged PDF onto your device, all of your files will be deleted from the server.
Cons:
To get unlimited document uploads eSign is a must;
User can combine only PDF format files;
Larger file sizes slow down the processing time.
13. Combining PDF Files by Means of Foxit
Foxit is an online platform that enables you to merge multiple PDF files into a unified file. This renders it a perfect app for combining documents, images, forms, and more. The application supports a lot of languages and devices. Moreover, it is suitable for working with large complex files.
Pros:
PDF Merger works on any device with an internet connection.
Cons:
Not intuitive interface;
Long processing time;
No way to preview changes before merging PDF files.
14. PDF Joiner - the Quickest Way to Combine PDF Files
PDF Joiner is an online PDF combiner that may be used to merge several PDFs into one document. It's a straightforward tool for combining multiple documents into a single entity while preserving their original formatting and structure. Service is considered to be safe and removes all files and conversion results within an hour.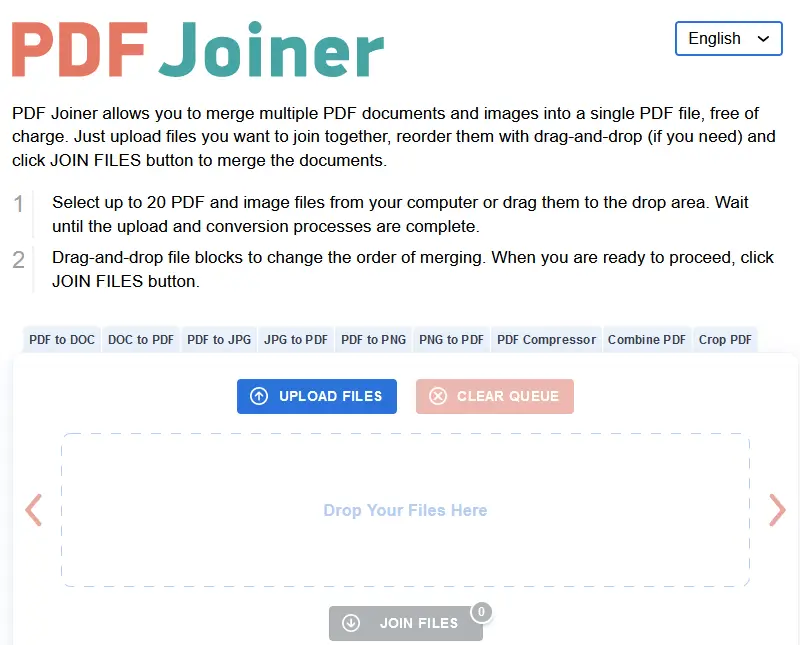 Pros:
Merging PDF files into a unified one is quick and efficient;
Supports a variety of PDF file formats.
Cons:
Not suitable for larger files due to size limitations;
Can merge only up to 20 PDF files;
Can not merge protected PDFs.
15. Merge Pages Online with Xodo
Xodo is a powerful, free online PDF editor for merging files effortlessly. You don't have to download any software or plugins for combining PDF files. Just upload your files and combine them in a few clicks. The PDF combiner is really cross-platform with its own cloud service. But for Google and DropBox users it is possible to use them.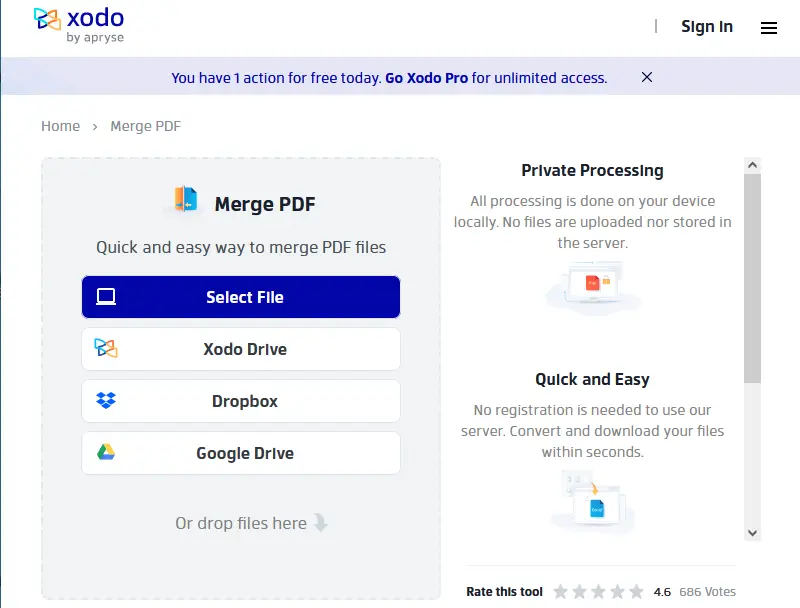 Pros:
Drag & drop support for rearranging pages;
No watermarks or ads on merged PDF files;
Automatically deletes uploaded files after processing.
Cons:
Maximum upload size is limited to 10MB;
Can't edit or annotate documents before merging PDF files.
Why Merge PDFs?
PDFs are one of the most popular digital file formats for documents. From contracts to reports, it's easy to share and store PDFs.
Sometimes, however, you may need to combine multiple PDFs into a unified paper. This could be to make a single document out of different parts or to present two or more documents in one file.
For example, if you wanted to send someone a report that was spread across several pages, you could combine them into one file to make it easier for the recipient to open and read.
Another reason why you might join PDFs is for archiving purposes. Combining all documents of a project into one PDF makes it simpler for you later on if you need to refer back to them.
In addition, some organizations require their documents in the form of a single PDF. For instance, if you're applying for a job and have multiple documents as part of your application, using a PDF combiner could make the procedure significantly simpler.
How to Combine PDF Files: Tips
Use a secure website: When combining PDF files online, make sure to use a protected web application with encryption and data protection measures in place.
Check file size: Make sure the merged PDF doesn't exceed the maximum allowable file size of the combiner you are using.
Keep original files: After merging PDF files, keep your original PDFs in case you need them again later.
Organize files: Have all the PDFs which you intend to join in the same folder or directory and organize them for easy access.
Verify accuracy: Before downloading or sharing your PDF, it is important to double-check that all pages have been included correctly.
Name documents clearly: Name all of your files clearly and concisely so that it is easy to identify them when looking through a long list.
Delete files securely: Once you've downloaded and verified your combined PDF, delete the source files using the combiner's built-in features.
To Sum Up - Best Online PDF Combiner
PDFs are everywhere. From online forms and documents to presentations, the ability to combine multiple files into one PDF is invaluable. Not all PDF combiners possess the same quality. The perfect PDF merger must be simple to use and comprehend. Look for one that offers regular updates and customer support in case you run into any issues while using the tool.
Overall, an online combiner is a must-have tool for anyone who needs to join several PDF files together. When selecting the optimal combining PDF files tool, consider the features needed and their ease of use. With the right tool, creating a single PDF from multiple documents will be a breeze!
Moreover, the best tool should have features like adding page numbers, password-protecting your ready-made documents and watermarking them. This ensures that only authorized users can view or edit the combined file. Some even allow you to share the file securely with others via email or cloud storage services like Dropbox.