Adobe Acrobat is a well-known software for working with PDF format. Its disadvantage is the high subscription cost. In this article, we will show you 3 ways how to combine PDF files without Acrobat.
One of them is the free online PDF merger, another one is software for Windows, and the third one is the solution for Mac.
Method 1: Merge PDF files online
The most convenient method to join PDFs together is to use a web service. An online PDF combiner does not require you to install any programs or apps on your device. You only need a web browser to use it.
Below is the guide on how to use the free online PDF merger by PDF Candy:
Open the PDF combiner in Safari, Google Chrome, Mozilla Firefox, Edge, or any other browser.
Add the PDF files you want to join. Upload documents in bulk or one by one using the "+ Add file(s)" button. Alternatively, simply drag and drop the PDFs into the window.
Reorder the files how you want them to appear in the resulting document. You can also sort alphabetically using the corresponding functionality ("A-Z" or "Z-A").
Click the "Merge" button to combine the PDF documents.
Download the output file, upload it to supported cloud storage, or share via link or QR code.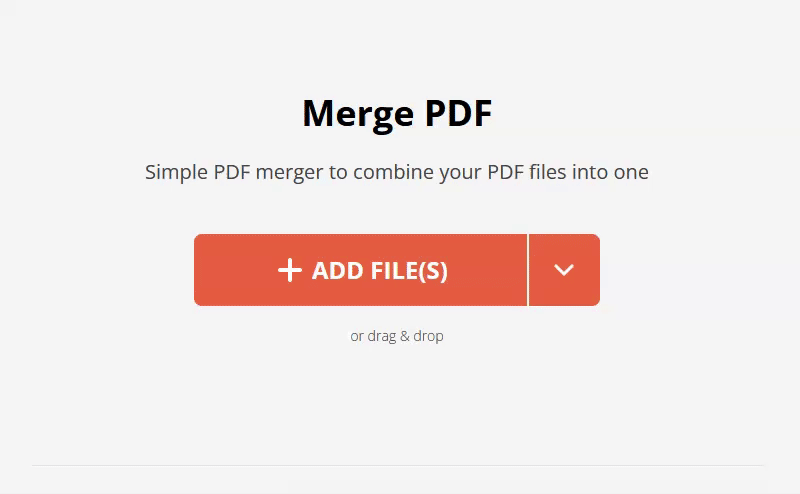 Apart from joining PDFs, you can also combine PDFs with image files, using the same PDF merger. In case you need to merge and convert multiple images to PDF, you can use the PDF converter offered on the website.
Method 2: Combine PDFs on Windows
For those users who prefer a desktop program instead of combining PDF files online, there is a specialized PDF merger for Windows PCs and laptops. PDF Candy Desktop has a variety of instruments to work with this file format, including the one to join PDFs.
See the instruction below on how to merge PDF files with this program.
Download the PDF combiner to your computer. Install the program.
Open the application and locate the "Merge PDF" tool. Transfer the files into the working window.
Rearrange the documents in the order you need them to appear. Set the number of pages for merging if needed.
Choose the folder to save the new document. Hit the "Merge" button.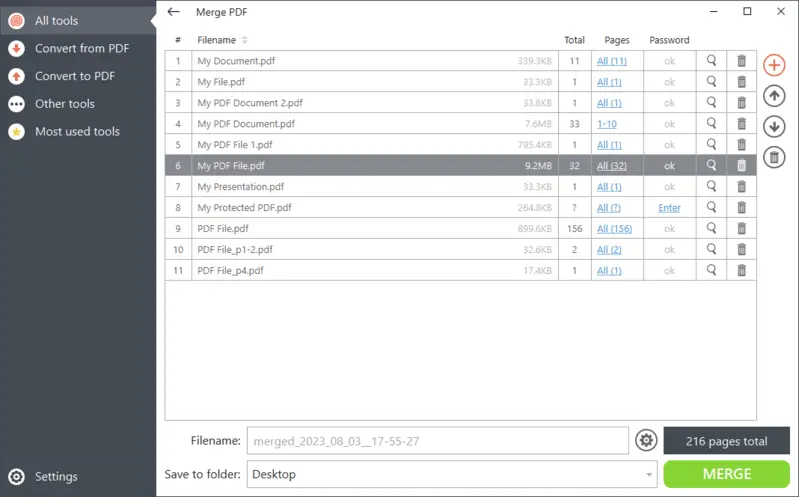 In case you are combining PDF files that contain sensitive information, you can set permissions and password-protect the PDF to restrict access to the document.
By following these steps, you can quickly and effortlessly merge multiple PDF documents without Adobe into one file on Windows 10, 8.1, 8, 7, and Vista.
Method 3: Join PDF documents on Mac
If you are an Apple customer, you may as well wonder how to merge PDF files into one without Acrobat on your device. Luckily, all Macs come with a built-in program Preview that you can use to combine PDFs on your computer.
Here are the steps to take to use this program as a PDF merger:
Open the Finder window and locate the PDF files you wish to join together.
Right-click on one of them and select "Open With" and pick "Preview" from the drop-down menu.
Locate the "View" option on the top toolbar of the program and hit "Thumbnails" if they are not already displayed.
Now drag and drop the thumbnails of one document to another to combine PDF pages.
Click the "File" menu and save the resulting document.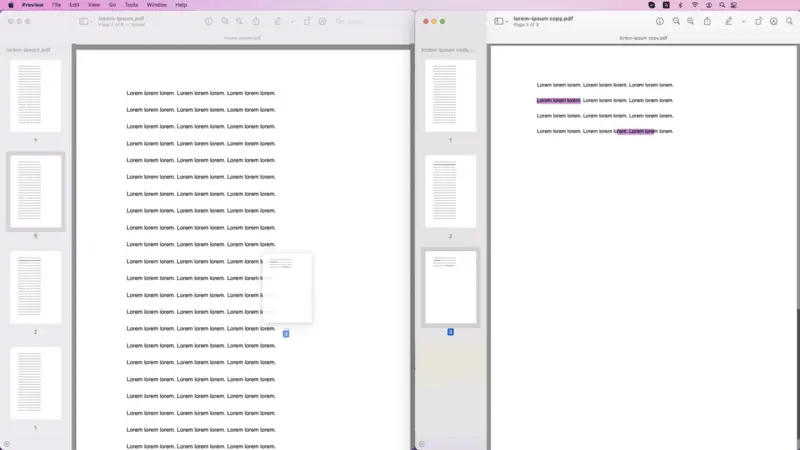 The program also has a few additional features you can take advantage of. For instance, you can highlight PDF text, add new textual content, draw, and sign.
Utilizing Preview is a simple technique to merge one PDF's pages to the other document. However, it does require you to manually drag each page you need to appear in the joined document.
Combining PDFs online vs offline
Although desktop applications are good many-in-one toolkits to work with PDFs, there are several advantages to combining PDF files online.
First of all, it may be challenging to find a free PDF merger that is compatible with your particular device. With the tool that can join PDFs online, you will not face this issue. It will work on all PCs and mobile devices equally well.
Moreover, if people working in your office have Windows and Mac computers, they won't be able to use the same software. Hence, the company will have to purchase multiple licenses for various devices.
Advantages of merging PDF online
With this online PDF combiner, you can upload PDFs not only from the device but also from Google Drive and Dropbox. This will greatly facilitate your work, and let you complete the task on the go. Other benefits of the service are:
Only an Internet connection is required for combining your PDF files.
Convenient and intuitive interface of PDF merger.
The format and content of the uploaded documents remain unchanged.
Additional tools including a powerful PDF editor.
Combine PDF files for free online. No cost is required.
Another interesting feature of the PDF combiner is that you can preview uploaded files. This is useful if, for example, all PDF files have complex or similar names.
Not only you can combine your PDF files without Acrobat, but you also have more options for working with this format. These include compressing PDFs, deleting extra pages, and splitting and resizing your files. And many more other tools that are available on one website.
FAQ on merging PDFs
Q1. Can I combine scanned PDFs?
A1. Yes, it is possible to join PDFs that contain only scanned images and not textual content. With the online PDF merger, you can do so.
Q2. Can I add a new header or footer after I combine my PDFs?
A2. Yes, if you need to add header or footer to the PDF that is the same for all pages in the joined document, you can do so with the corresponding tool.
Q3. Can I rearrange pages in a combined PDF?*
A3. Yes, after combining multiple PDF files into a single file, you can rearrange the page order in the PDF you create.
Q4. Can I delete extra pages in the PDF after merging?
A4. If after you join your PDF files you find out that there are certain pages you do not need in the new file, you can easily delete PDF pages that are irrelevant.
Q5. Can I split PDF without Acrobat?
A5. Yes, similarly to the online PDF combiner, you can utilize an online PDF splitter to divide your files into pieces that need to be shared separately.
Conclusion
In this article, we showed you how to merge PDF without Adobe online, with a Windows app, and a Mac program. All these PDF combiners are free and easy to use.
Explore your options and make your work with PDF-formatted docs easy and fun!