The ODT format can be opened with the OpenOffice suite and OpenOffice Writer in particular. Its disadvantage is that this text editor is not available for smartphones.
The free online ODT to PDF converter will help you quickly change the format of your OpenOffice documents to an easier format for viewing on your iPhone or Android. This method comes in handy for computers as well, as it will help you avoid additional OpenOffice suite installations and the process of learning how to work in it.
How to convert ODT to PDF online?
The whole process is fast and intuitive and can be done in 1 click. Below you will find instructions to see for yourself.
Upload your document to online ODT to PDF converter by clicking the "Add file" or drag-and-dropping it.
The conversion process starts automatically.
Save the PDF file when ready. You can also share it right away (see below for all the ways you can do this).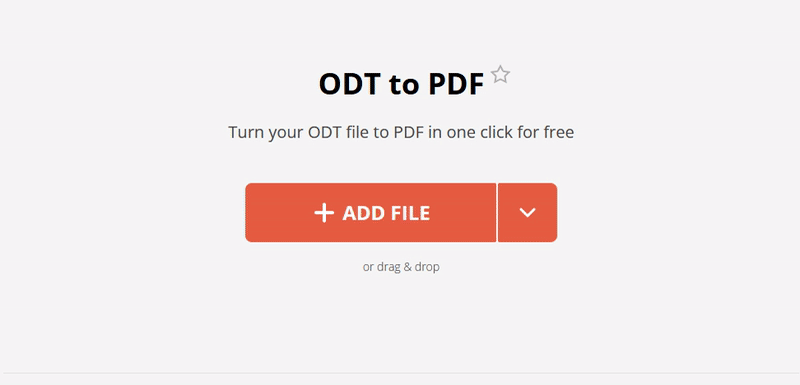 Share created PDF online
With this free online ODT to PDF converter, you have several easy options for sharing or downloading the resulting PDF file:
| Upload | Share |
| --- | --- |
| Google Drive | URL link |
| Dropbox | QR code |
When you upload a file to your Google Drive or Dropbox account, you can easily access it on all your connected devices. For example, convert ODT to PDF on your way to work so that you have access to the PDF by the beginning of the work day or a meeting.
The option of sharing the file by URL is very convenient because you can send it to several different people at once or share the link in social networks or groups. The URL will also contain a QR code. This will greatly facilitate the process of downloading the PDF file to a phone.
Benefits of online ODT to PDF converter
Thanks to our cloud servers, you get the output file at an incredible speed.
Our service is available online, meaning that there's no time spent installing anything to turn your ODT to a PDF file. Using our website is a simple two-step process that saves you from wasting time learning new software. Upload an ODT document and save or share PDF, as easy as it sounds.
All ODT files uploaded and PDFs downloaded are completely secure, we never store your uploaded data and automatically delete it within 2 hours once you've finished. On top of that, you have the option to manually delete your information immediately after using the free online ODT to PDF converter. According to our Privacy Policy, your documents are safe and never shared with the third-parties.
All of this makes our service a safe and efficient tool for your business, even when dealing with sensitive documents like contracts.
How else you can help yourself with paperwork,
If you found our instructions on how to convert an ODT to PDF file useful, you should check out the rest of our tools for working with PDFs online.