How to convert PDF to images to make a collage or insert a photo into a slideshow, newsletter or else? For this task, there is quite a few converters (software, apps and service) available. However, since this function has a professional use, these tools might be expensive, and not as straightforward to use for some. For these very reasons, online converters are way more convenient. In this article, you will learn how to convert PDF to JPG for free and online within seconds.
How to Convert PDF to JPG Free of Charge
Go to PDF to JPG online converter.
Click the + Add file to select the file or drag and drop it. You can only convert one document at a time.
Choose the output image quality. To save PDF as JPEG you can choose between Low, Medium, and High. Rotate the file and preview it here.
Click the "Convert PDF" button to start your free PDF to JPG conversion.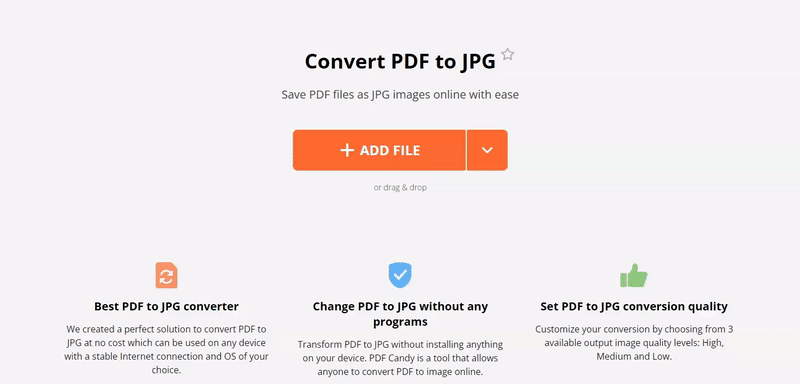 Why it makes sense to convert PDF to JPG: theory
The two file formats have distinct uses and technologies:
The PDF file format is mostly used for documents due to its portability and compatibility. Also, PDFs are chosen for printing, since they can store high-quality text and images.
JPG, for its part, is a compressed image file format. As such, JPGs are rarely for printing. Instead, this file format is widely used for non-professional photography and web images.
Technically speaking, they also differ in the way they display images. JPG is a raster image file format. This means that JPG images are made of pixels. Since the pixels of an image have a fixed size, enlarging JPG images show the square shape of their pixels, resulting in low image quality. PDFs, in turn, while also supporting rasterized elements, treat images as vectors. Unlike pixels, vector graphics draw the image from its geometrical shape: when enlarged or reduced, the image is automatically redrawn. Thanks to vectors, PDFs can preserve image quality.
Withal, despite their differences in use and technology, there are occasions in which you might need to convert PDF to JPG:
To open and edit a file with an image editor like Adobe Photoshop or GIMP that works better with JPGs.
To use a PDF as an image for a web page or as any other sort of insert to other files or services.
To share it with someone who doesn't have a PDF editor pre-installed.
As a way of compressing the initial PDF file.
Benefits of free PDF to JPG converter
PDF Candy ticks all boxes to be the best free service to change PDF to JPG thanks to the following perks:
It works online. Conversion takes place in our cloud servers, so you don't need to download anything to use it.
Fast conversion. It takes our PDF to JPG converter merely seconds to process files.
Easy to download and share. Download the converted files to your device, save them on Google Drive or Dropbox or share with a QR code or link.
Multiple options for file editing. Aside from a large number of conversion tools, PDF Candy also offers tools for different PDF editing tasks. To name a few: compressing, merging, rearranging, watermarking, and metadata editing.
Secure. Your converted files are stored in our servers for only two hours before being deleted. Additionally, you can delete them manually after the PDF to JPG conversion.
All devices and OSs are supported. You can use the website on desktop computers and mobile devices. Likewise, use PDF Candy through the browser of your choosing, no matter what OS your computer or cellphone runs.
Try out other free online PDF tools
Now you have learned why and how to turn PDF into JPG and why free PDF to JPG converter is a convenient way to do it. Try out other ways to enhance your PDF documents, such as: