JPEG is a popular format for storing digital pictures. PDF files can contain not only images but also text, charts, infographics, or else. Thus, PDFs are more difficult to edit than JPGs. You might need to learn how to save a PDF as a JPEG for your convenience.
In this article, we will look at 5 very fast and easy ways to convert documents to images. All processes can be completed in a couple of simple steps. Sounds appealing? Let's dig into it.
1. How to Save a PDF as a JPEG Online?
Open the online PDF to JPEG converter.
Upload file (the "+Add file" button or drag and drop).
Select the output image(s) quality: Low, Medium, or High.
Click "Convert PDF" to actually save PDF as JPEG.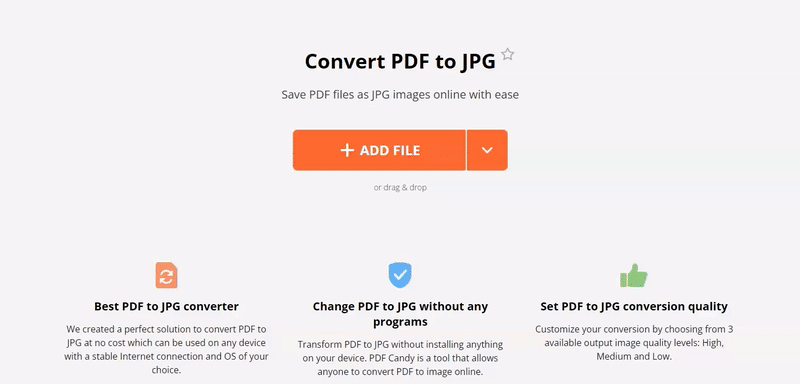 Image Quality Level Selection
Before you change a PDF to JPEG online, set the quality of an output picture(s). High quality will get you a photo of the best quality possible. Select the Low quality to get a file of the most compact size. Opt for Medium quality for a perfect balance between the size and the quality.
Convenient File Sharing
You have several options for downloading and sharing after you export a PDF to JPEG.
You can download an archive of pictures if the original document has more than 1 page. Or save each page separately by clicking the corresponding thumbnail.
Otherwise, upload the converted pictures to Google Drive or Dropbox in one click.
Another option is to create a link to the file that you can share. It will be available for 7 days, then it will be automatically deleted due to our Privacy Policy. You can remove the URL anytime though.
Other Advantages of Online PDF to JPEG Converter:
All popular formats supported, including Word, Excel, PowerPoint, and images.
Works with all major web browsers, such as Opera, Firefox, Google Chrome, and Safari.
Results are high-quality files that are true to the original format.
No registration required - it's a free PDF to image converter.
Easy-to-use interface simplifies the whole process.
Easily save PDF as JPEG without having to install any software on your device.
Use on Android, iPhone Max, ProMax, Plus, Mini, SE, Windows 7, 8, 10, 11, and Mac.
2. How to Convert PDF to Images with PDF Candy Desktop?
It is an efficient tool for converting PDF to JPEG and other various formats such as PNG, and more. One can quickly change a PDF to a JPEG with just a few steps.
Download and install the PDF Candy Desktop software.
Open the program and click on "Add file(s)" or just drag the PDFs that you want to convert into the tool icon.
Select the output format you wish to convert it to (JPEG, PNG, etc). Adjust the range of pages.
Click on "Start" and wait for the conversion process to finish.
Once it is done, click on "Download" and you will save a PDF as a JPEG!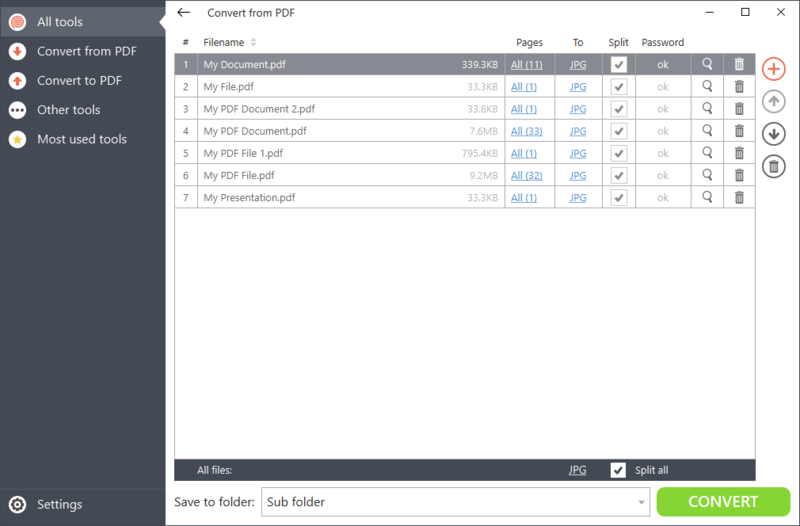 Pros:
Quick and easy saving PDF as JPEG.
Application can run without an internet connection.
Works on all popular versions of Windows.
Offers batch JPG to PDF conversion.
Easy navigation between different functions of the software.
Has a low memory footprint and has a low impact on PC system resources.
3. How to Save PDF as JPEG With Screenshot?
Take a screenshot of your PDF file open on your computer or cell phone screen. This way you can also zoom in on the pages while saving PDF as JPEG. The downside of this method is that you need a PDF viewer. On Windows OS you can open the PDF in a browser, and on macOS, you can use the built-in Preview program. Not all mobile devices have a built-in PDF reader, though.
If you want to take screenshots of a large PDF document to make it easier to send, try compressing the PDF for email.
Pros:
Screenshot programs are easy to use.
Free way to turn a PDF into a JPEG.
They allow users to capture an entire page or just part of it.
Cons:
Saving large PDF as JPEG can take time.
The files are not editable, so any changes must be done manually in an image editor.
4. How to Save PDF to JPEG Using Adobe Acrobat?
Making use of Adobe Acrobat for converting a PDF to a JPEG is an optimal approach to ensure your file appears exactly how you want it. Adopt these steps:
Start Adobe Acrobat and access the PDF.
Select "File" from the menu bar and choose "Export To".
Choose "Image" from the list of available formats and select "JPEG" as the desired output format.
Click "Export".
In the dialog box that appears, navigate to the folder where you want to save a PDF as a JPEG file and click "Save".
The PDF will be converted into a JPEG image file and saved in your chosen folder.
Pros:
Acrobat has an intuitive user interface that makes it easy for anyone to export PDF to JPEG.
The files it produces are of very high quality.
PDF to JPG converter works on both Mac and Windows computers.
Cons:
The cost of the software can be prohibitive for some users.
While the interface is user-friendly, Acrobat can be quite complex and require some knowledge in order to get the most out of it.
5. How to Transform PDF to JPEG using Preview?
If you're searching for a simple method to save a PDF as a JPEG on your Mac, then Preview has all the answers. By following a few straightforward steps, you can quickly and easily turn a PDF into a JPEG.
Open the PDF in Preview. To do this, right-click on the PDF and select "Open with" > "Preview".
Then, click "File" > "Export". Select the format as JPEG from the drop-down menu located at the bottom of the window.
Choose a location for the file and click "Save".
You may also find it helpful to adjust the quality of the image before saving it. You can do this by clicking on "Quartz Filter" > "Decrease File Size" when exporting. You can also manipulate other aspects of the image such as cutting size or changing resolution prior to preserving it.
Pros:
Suitable for converting PDF to JPEG for both beginners and experienced users.
You can adjust settings like resolution and color depth when converting files.
Cons:
Converted files tend to be bigger than if they were converted with other apps or services.
You can convert PDF to JPEG, yet you cannot change it to other image formats such as PNG or GIF.
If your PDF contains complex objects such as vector graphics or 3D images, they may not appear correctly when converted with Preview.
Reasons To Save a PDF as a JPEG
PDF files are widely used to store and share documents. But what if you need to output a PDF as an image file? JPEGs can be more conveniently shared and used in many ways, so the following are a few reasons why you might want to turn a PDF into a JPEG:
JPEGs have smaller file sizes than PDFs, making them easier to send via email or other methods.
Programs or websites which don't support PDFs can incorporate JPEGs.
They provide more flexibility for online PDF editing, printing, and sharing.
Pictures are more captivating than text-based files.
You can use the same image multiple times without worrying about it getting distorted.
You can use images to create presentations or webpages with ease.
Images take up less space on disk drives and memory cards.
Images are easier to search for when using search engines like Google.
How to Save a PDF as a JPEG: Conclusion
In conclusion, switching a PDF to a JPEG is a relatively straightforward process that can be executed in just a few simple steps. It is essential to recall that the quality of your image will depend on the original resolution of the PDF file. Additionally, you'll want to make sure you have the correct software for the conversion process, based on what type of system you're using.
Following our guide can help ensure that when you convert your PDF to a JPEG, it will retain its original quality and look great for whatever purpose you need it for.
What else you can do with PDF Candy besides saving PDF as JPEG
Try out all the options PDF Candy offers online, such as:
Edit PDF - edit PDF text and add new one along with pictures, highlight, draw on a PDF, and much more! Full-featured service to modify your documents online.
Merge PDF - combine the created images with PDFs.
Compress PDF - reduce size of your document for easier sharing.