Have you ever needed to convert PNG to PDF on Windows? It can be a handy thing to do for a variety of reasons. For starters, a PDF is more secure than a PNG file, making it an ideal format for sharing sensitive information. Additionally, it can be easier to edit, compress, and store PDF files compared to other image formats. Lastly, PDF files are more universally accepted. In this article, we will list 4 ways how to change PNG to PDF on Windows 10.
1. Turn PNG to PDF on Windows 10, 11 Online
Converting images to PDF using a website is an incredibly convenient way to do the job. That is how to convert PNG photos to PDF documents online:
Go to the "PNG to PDF" tool.
Click the "Add File(s)" button to upload the PNG you wish to convert or drag-and-drop it. You can also upload images from Dropbox or Google Drive.
Choose the page format (original size, A4 or US Letter), orientation (Auto, Portrait or Landscape) and margins (No margin, Small margin, Big Margin).
Once the settings are tweaked, click the "Convert" button.
After the conversion is complete, load the PDF to your computer using the "Download File" button. You also have the option to share the converted file with others.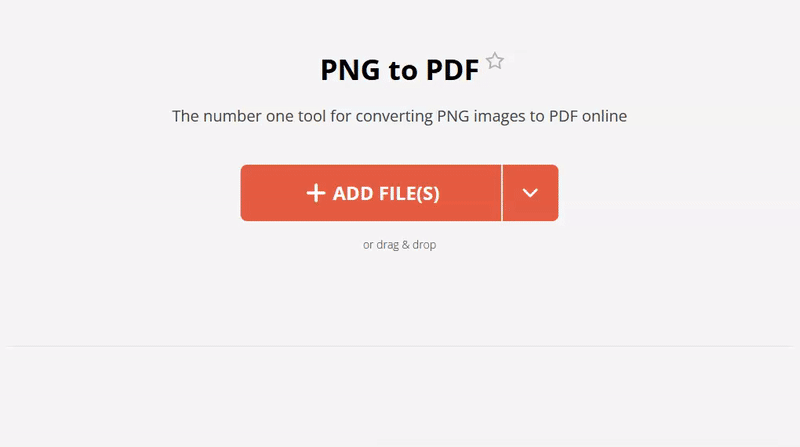 Why is it better to change PNG to PDF online?
First of all, there is no need to download any additional software. All you need is your browser and an internet connection. Plus, PDF Converter also offers additional ways to further edit your created document, such as compressing, splitting, rotating, and much more.
Another great benefit of using an online tool to convert PNG to PDF is that it's really fast. You don't need to wait around for a long time before the file is ready.
Thirdly, this method works not only on Windows 10 and 11 but on older versions of Windows OS (XP, Vista), too.
2. How to Convert PNG to PDF on Windows 10 with Software
Using offline programs to save PNG as PDF offers some advantages over utilizing a website for the same task. Here's how to get it done:
Download PDF Candy Desktop for Windows and install it on your computer.
Launch the software. Select the PNG to PDF tool and choose as many PNG files as you need from your computer. Or simply drag and drop them into the program's window.
If you uploaded multiple files, select whether you want to merge them all into one PDF file or not.
Rearrange the PNG files in any order you want using the drag-and-drop function. You can add more images by clicking plus icon. Or you can delete unnecessary files.
Select the output folder for the PDF(s). Once you've selected all the settings, click "Convert".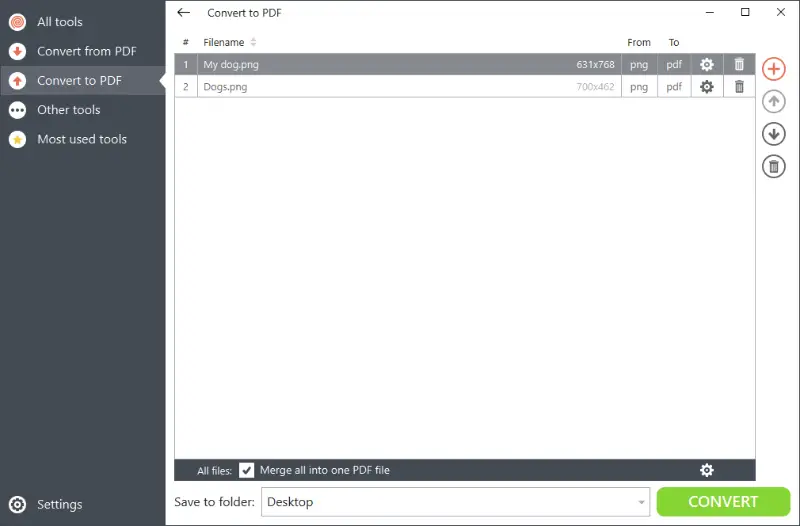 Advantages of PDF Converter for Windows:
Speed: Software is much faster than a website. It allows you to convert image to PDF in a fraction of the time it takes on a web.
Ease of use: The program is designed with user-friendly interfaces. It means you can quickly and easily convert your files without complicated settings or instructions.
Security: Since the software runs on your computer, do not worry about your files being exposed to the internet or other users. This ensures that your documents remain safe and secure throughout the conversion process.
Turning PNG to PDF just got easier with PDF Candy Desktop. This handy desktop app allows you to convert multiple PNG files into a PDF document. Moreover, it works on Windows 10, 11, and earlier versions of 8 and 7.
3. Create PDF from PNG in a Browser with Print to PDF Function
The Print to PDF browser feature is an exceptionally useful tool that comes built into most modern browsers. This feature allows users to easily convert any PNG image to PDF on Windows 10, 11. How to do it?
Open the PNG file that you want to convert to PDF in your browser. This will work in Google Chrome, Mozilla Firefox, Opera, and others.
Click the File menu and select Print from the options.
In the Print dialog box, select "Print to PDF" from the list of available printers.
Click "Save" to turn your picture into a PDF document.
Enter a name for the document in the File Name field and click "Save" again.
Your PNG file is now saved as a PDF, ready for you to view or share with others. The "Print to PDF" feature makes it easy to convert various types of files, for example JPG to PDF. Feel free to experiment with different formats and see what results you get.
Here are some of the main benefits of converting PNG to PDF with "Print to PDF"
User-Friendly: This feature is easy to use and requires no prior technical knowledge. All you have to do is select the image you want to convert and click the Print button. Then choose the Save as PDF option.
Time-Saving: This browser component efficiently converts pictures from PNG format to PDF. You can save time and effort by using this built-in tool rather than downloading software and figuring out how to use it.
Free: Print to PDF is costless and does not require any additional downloads or subscriptions. This makes it an economical way of converting PNG file from one format to another without spending any money.
4. Convert PNG to PDF on Windows 10 with Photos
Did you know that the Microsoft Photos app has an in-built "Print to PDF" feature? It makes it easy to convert PNG files to PDFs with just a few clicks. Here's the instruction:
Right-click on the image to be converted to a PDF document.
From the drop-down menu, select "Open with" and then "Microsoft Photos".
Once the file opens, select the "Print" option in the right corner.
On the print menu that pops up, choose the "Printer" menu at the top and select "Microsoft Print to PDF".
Press the "Print" button at the bottom of the pop-up window and it will change PNG to PDF.
You can also customize your PDF by clicking "Settings" in the dialog box. You can adjust things like paper size, orientation, margins, and more.
Once you're done customizing, click the "Print" button again to save your changes and create a PDF file.
Now you know how to use Microsoft to create PDFs from photos in a minute.
Pros of Microsoft Photos:
The advantage of utilizing the Photos program from Windows 10 is that it promptly converts files without requiring any extra applications or plugins.
The conversion process is also simple and can be performed in minutes.
Moreover, Photos produces high-quality PDFs that accurately represent the original images, making them suitable for printing or sharing online.
And because there are no third-party applications involved, you can be sure that the output is secure and free from viruses or malware.
Reasons to Convert PNG to PDF
PNGs are notoriously limited in terms of functionality and compatibility. They cannot be edited or commented on, and can't be used for official documents. If you want to make a statement, a PDF is the way to go. Plus, converting images to PDF offers several advantages:
Preserving Quality. PDFs maintain the exact resolution and color depth of the PNG file. It's like an exact copy of your original image but with added editing capabilities.
Compatibility. PDFs are widely supported across all platforms, so you can easily share them with anyone, regardless of their device or software.
Security. Save PNG as PDF to protect the PDF with passwords and permissions to maintain its integrity. This makes it ideal for confidential documents and data that needs protection from unauthorized access.
Printability. PNGs are not ideal for printing due to their low-resolution nature, but converting them to PDFs preserves the quality and allows for easy printing.
Easy Editing. Lastly, PDFs are perfect for making changes and annotations without compromising the source file. No more need to go back and forth between different software applications!
By converting your PNG files to PDFs, you can get the best of both worlds: high-quality visuals combined with advanced editing capabilities!
Conclusion
As you can see, there are plenty of options on how to convert PNG to PDF on Windows 10. Whether you prefer the built-in function, utilize an online converter, or choose software, each of these can help you. So consider the options presented here, and find the best solution for changing PNG to PDF. With any of these 4 methods, you'll have no problem converting your PNG images to PDF format.
What Else Can You Do with PDF?
If, after converting a PNG to PDF, the resulting file is too large, compress the document.
Use the PDF cropper to remove unwanted edges from the created document.
Resize PDF to convert the document to one of the 4 basic formats US letter, A4, A3, and A5.