Merging PNG files to PDF is an important task for many professionals. Whether you are a graphic designer, a business owner, or a student, having the ability to make a PDF file from images is essential for producing professional-looking documents. By converting PNG images into the more versatile and often used PDF format, you can share your work with colleagues, clients, and other stakeholders in a convenient way.
We'll tell you several quick and easy ways how to merge PNG files into one PDF document.
1. Convert Multiple PNG to PDF Online
Consolidating PNG files into a unified PDF document is easy and fast with the help of the online service. This web-based utility provides users with a convenient way to convert, edit and unite multiple image files into a solitary PDF file. In this guide, you will learn 2 ways how to join PNG to PDF with the online tool:
Create PDF From Images With PNG to PDF Converter
Click "Add file(s)" to load pictures to PNG to PDF combiner or drag-and-drop them into the browser.
Choose the output page size ("Original size", "A4" or "US letter"); orientation ("Portrait" or "Landscape" for A4 and US Letter options); margin ("No margin", "Small margin" or "Big margin") size. Rearrange the files' order if needed, delete redundant ones, or incline an additional PNG.
Click the blue button to convert and merge PNG files to PDF document.
Download or continue to further edit PDF using the tools of the service. Alternatively, save it to Dropbox or Google Drive, share it by URL, or delete it from the website immediately.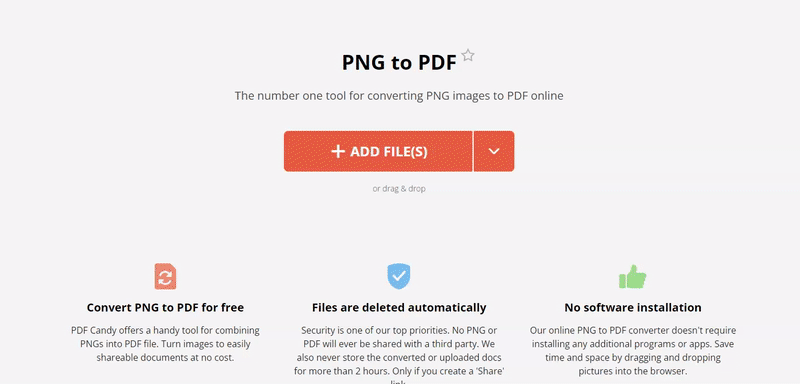 Benefits of Converting PNG to PDF Online
2. How to Convert a PNG to PDF Offline?
Making use of PDF Candy Desktop to combine PNG to PDF files is a great way to manage your documents, particularly if you must join images into a single file. This method offers numerous benefits, such as adjusting the page size and margins, and other elements. Plus, it's free and easy to use. Here's a step-by-step guide:
Download and run PDF Candy Desktop.
Choose the PNG to PDF tool and pick as many PNG files as you need from your computer. Alternatively, you can simply drag and drop them into the program icon.
Arrange the PNG files in any order. You can add more images by clicking the plus icon. Or delete unnecessary files.
Adjust "File and Layout Settings".
Check "Merge all into one PDF file".
Choose the output folder for the PDF. Click "Convert" when you've selected all the settings.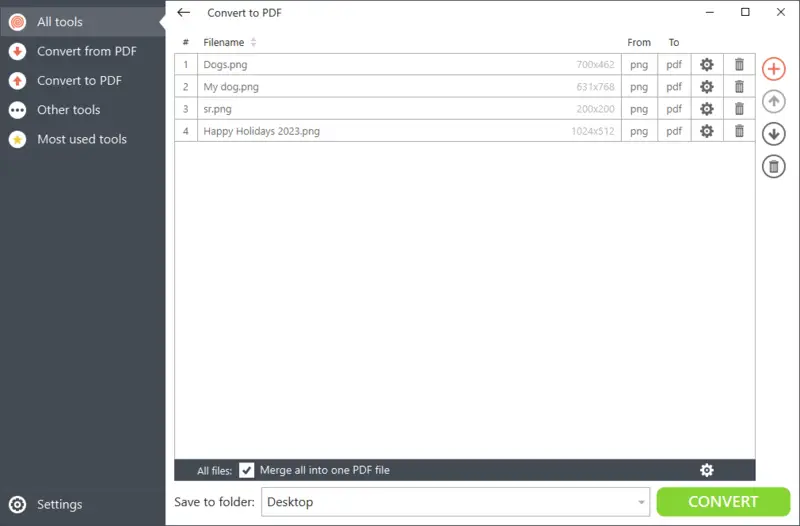 The Advantages of Offline PNG to PDF Combiner:
Reasons to Make a PDF File from Images
PNG is a raster-based image format. It's widely used for web graphics, screenshots, and digital art. In terms of printing, images in the PNG format can lose their quality. That's why converting them to PDF is often necessary. Here are some of the benefits of doing so:
All in all, converting from PNG to PDF has many advantages over using the original format alone. Not only is it more secure, but it also provides better quality and convenience when editing and printing images.
How to Combine Images to PDF: Tips
Know your operating system. Different operating systems have various tools to create PDF from multiple images.
Verify compatibility. Make sure the software you're using is compatible with both PNG and PDFs.
Organize files. Reorder your PNG files before combining them into a single PDF format for a more organized look.
Name your file carefully. Choose a file name that reflects the content of the PDF, so you can easily find it later.
Optimize size. Compress the PDF after merging to optimize its size and reduce file download times for readers.
Check settings. Before you click "merge PNG to PDF", review all settings to make sure everything is correct.
Preview result. Preview the resulting PDF document before saving it to guarantee its desired appearance.
Merge PNG Files to PDF: Bottom Line
Combining PNG files to PDF ensures that all of your photos appear consistent and polished. The process is easy and straightforward, but it is essential to pay attention to details such as image resolution and file formats before proceeding with the conversion. Utilizing a reliable tool will also help ensure high-quality results. With these key considerations in mind, everyone can enjoy the benefits of merging their images to one PDF document.
Continue Working With the Created PDF: