PDF separator is a powerful tool that enables users to break down large documents into more manageable records. This facilitates sharing, storing, and processing the information without compromising the original formatting of the PDF file. For instance, you can split your PDF file to remove unwanted parts or separate PDF pages with sensitive data. In any case, having a reliable PDF splitter is necessary. This article will offer you 4 web-based PDF separators that allow you to split a PDF online and free.
1. Online PDF splitter by PDF Candy
If you are looking for an easy way to split your PDF online and free, then this PDF separator is the best option for you. With its user-friendly interface, fast processing time, and secure uploads, it is the ideal choice for anyone who needs to separate their PDF. Below is the guide on how to use this web-based service to split PDF pages.
Open the free online PDF splitter with any browser on your device.
Choose the file you need to divide with the "+ Add file" button.
Select the settings of how you wish to separate the PDF pages. Split PDF into single-page files, split PDF by ranges, merge selected pages, or delete selected PDF pages. Set the page range to which these parameters will be applied.
Click "Split PDF" and remain in anticipation for the process to conclude. Download your separated documents one by one or as an archive.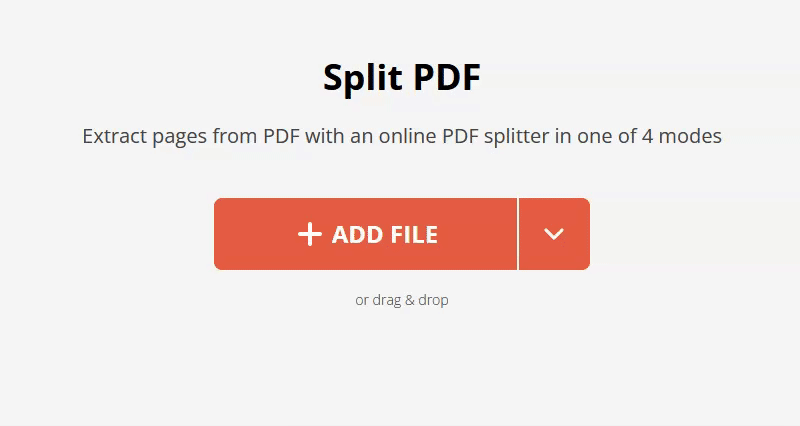 Although being a PDF separator, this service offers deleting extra pages without the need to leave the tool to split PDFs. Such an option allows you to get rid of the pages you do not want in your final file. Then you can combine the rest of the PDF pages - all in one window.
With manual control, you are able to choose pages to be extracted or deleted within the preview. It helps to make sure you separate the PDF pages you need. This software also supports text extraction from PDFs, meaning users can quickly convert a PDF into plain text for further editing or analysis.
Pros:
It comes at no cost as it is a free PDF splitter.
It is supported in all major browsers - Google Chrome, Safari, Firefox, Edge, and others. You won't need to install any software as you will be able to separate your PDF online.
This PDF separator is free to use on Android phones, iPhone Max, ProMax, Plus, Mini, and SE; Windows PCs, iMacs, and MacBooks.
Its simple interface makes it easy for anyone to split a PDF for free in no time at all.
It facilitates the rapid division of big documents into various components with no deterioration of the original quality.
You can be sure that your data won't be exposed or disseminated to any outsiders. Files are deleted after 2 hours after you split your PDFs.
It offers additional tools, so apart from the ability to separate PDF pages for free, you can edit your PDF, extract images from a PDF, and more.
In short, PDF Candy free PDF splitter is an invaluable resource for those who need a rapid and trustworthy resolution to split PDF pages. It does not decrease the quality or data integrity of the initial PDF while saving time and effort in the process!
2. PDF separator by Sejda
This is another good tool to separate PDFs on the web quickly and easily. Taking advantage of this platform to divide PDFs could be a useful strategy to save time and have an organized document immediately. Here is an instructional guide for using this online PDF separator.
Visit the website and locate the "Split PDF by Pages" tool.
Click the "Upload PDF files" to transfer the PDF into the online PDF splitter.
Choose the option how to separate your PDFs. For example, you can extract every page into a PDF.
Hit "Continue" to proceed to the preview and tap the "Split" button.
Once completed, get the separated PDFs by selecting "Download".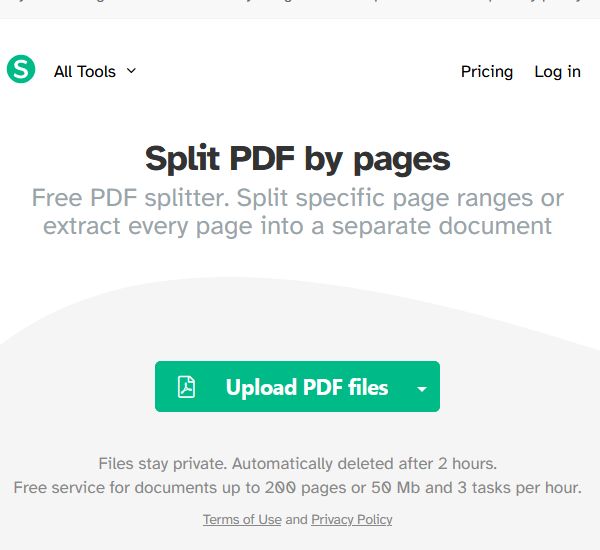 A tool to split a PDF for free is a must-have for anyone needing to separate or combine a great number of PDFs. Its supplementary features make it ideal for both personal use and professional environments where speed and accuracy are essential.
Pros:
The process to split a PDF online is fast and free.
Cons:
No option to rearrange pages within the PDF separator.
The interface of the PDF splitter may be a bit confusing for novice users.
Allows to separate PDF pages for free only for documents of less than 200 pages.
Has a limit of 3 tasks per hour.
Overall, employing Sejda to split PDFs can be an effective method to have an orderly document in no time. The online PDF Separator makes dividing PDFs easy and accessible.
3. How to separate PDF pages with PDF24
This website also offers a convenient and secure way to break down PDF files. It enables users to separate PDF documents into smaller pieces for further use and distribution. Continue reading to learn how to split PDF pages with this service:
On the service's main page choose the "Split PDF" instrument.
Select the PDFs to separate with the "Choose files" button.
Set the mode and the page range to apply it to.
When you are satisfied with your selections, click "Split" to separate your PDF pages.
Lastly, download the individual parts of your PDF file and save them on your computer.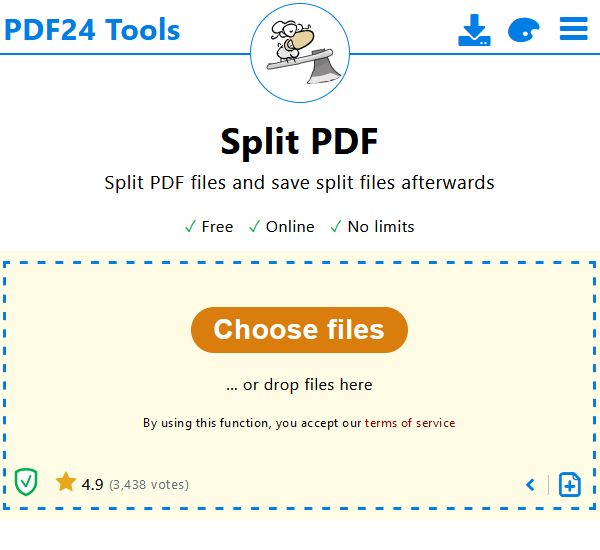 Pros:
Free PDF splitter for basic how to separate pages in PDF solution.
Offers an option to split PDF files by odd and even page numbers.
Cons:
No manual control over how the platform splits your PDF online.
Advertisements around the working area of the free PDF separator.
May take significant time to split your PDF into multiple files.
Overall, using this PDF splitter for free is an easy way to manage voluminous PDFs by splitting them. The user interface is straightforward and some other tools are available for those who need to compress a PDF, rotate PDF, and perform other manipulations with this format.
4. Online PDF splitter from Adobe
One of the options that come to mind with the question "How to separate PDF pages?" is this software. Their service to split a PDF online helps create more manageable files in a fast and efficient way. Read the guide below on how to use this PDF separator.
First, open the "Split PDF" instrument of the website.
Upload the document you need to separate PDF pages of via the "Select a file" button.
Set the beginning of each file you wish to get after you split them. Click "Continue" in the top right corner.
Choose the saving parameters in the pop-up window and hit "Save".
The new PDF will be saved as separate documents in your account with the service (if you do not have one, the system will hint you to create one before giving the possibility to split your PDF files).
Select the files to download by clicking the three-dots button on the right and find the "Download" option.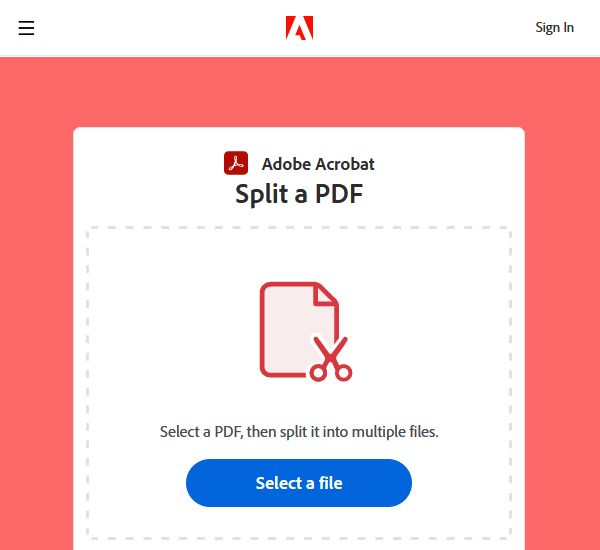 Utilizing this PDF separator by following these steps, users can divide their PDF files and ensure that they are organized correctly and meet the specific needs.
Pros:
Simple and well-known PDF splitter.
Cons:
Long files will have to be scrolled before using the split PDF tool.
You have to sign up to the website and cannot use the PDF separator for free.
Overall, using Adobe.com to split PDF for free offers a taste of the web-based service of the popular PDF editing software. It gives users a swift approach to quickly dividing large files into smaller portions without needing to install any software or plugins. For working with bigger files, you may consider compressing your PDF for flawless work with this format.
Online PDF separators: conclusion
Utilizing an online PDF splitter is a productive method for organizing your PDFs and ensuring they are secure. With many advantages of web-based platforms, it is easy to see why more and more people are turning to online tools for separate PDF documents. With online PDF separators that are free, you will be able to save time and money while ensuring that all of your files are properly saved in their original format.
Other articles you may find interesting
Have you found your old document that is password-protected but cannot remember the password? Learn here how to remove a password from PDF to assist you in restoring access to your valuable files.
Does your document has large margins or unnecessary details that you wish to get rid of? Here is a guide on how to crop your PDF without Adobe. With this tool, you will have a flawless PDF file for comfortable further use.