Knowing how to convert PDF to JPG offline can be of great benefit to anyone who needs to work with PDF files. Processing documents on your computer without an Internet connection makes sense if you're dealing with confidential files that you don't want to put anywhere online. Also, if you are working with a large number of heavy files, offline conversion, and editing will be better than online. In the guide below you will find information on various PDF to JPG offline tools and their obvious advantages.
1. How to Convert PDF to JPG Offline
Download PDF to JPG converter on your Windows computer. Install and run the software.
Drag and drop a PDF into the "PDF to JPG" icon. The relevant tool will be opened automatically. Note: you can add multiple PDFs by clicking the plus sign in the right menu. Or by dragging and dropping more documents into the program's window.
Preview the files, and select specific pages to be converted. The "Split" option automatically splits the documents into single pages, each one will be converted to an individual image.
Click "Convert" to turn PDF to JPG offline.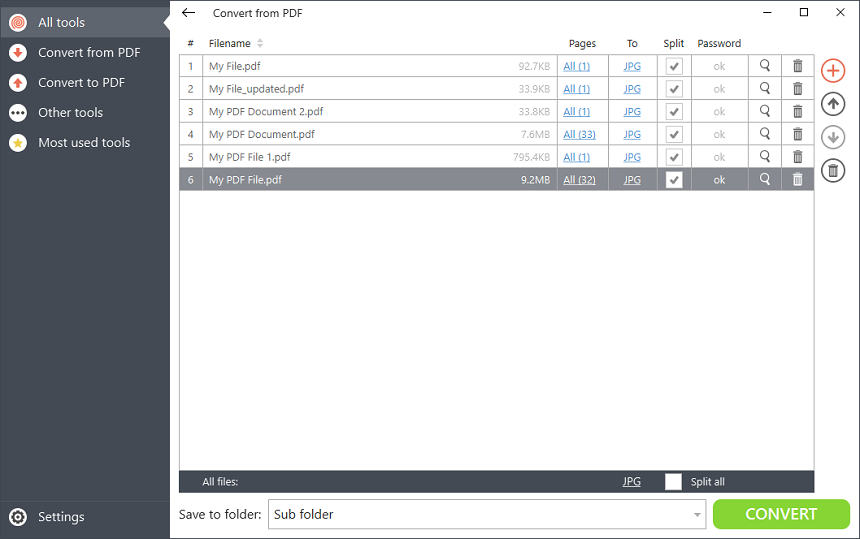 Benefits of Offline PDF to JPG Converter
Sometimes the connection may be poor or nonexistent. For example, you may be traveling and therefore have unreliable or insecure WiFi. In this case turning PDF into JPG offline is the best choice.
It's also difficult to get online when you're riding the subway or visiting the countryside. In such case, you have to convert PDF to JPG offline.
Instead of getting frustrated with an online converter, you can use PDF Candy Desktop. Our software can be downloaded to your Windows PC and is not dependent on wireless internet. This means you can be anywhere when you're working on your files, saving yourself the headache of finding the best place with web access.
| Online Converters | PDF Candy Desktop |
| --- | --- |
| Available only online and depends on your Internet availability. | Available on your Windows PC regardless of your Internet connection. |
| Require a subscription in majority of cases. | Free to download and requires no login or account. |
| Stores your data and personal information. | Never stores any of the data. |
| Files are in the cloud, so you have to get them in time. | Saves files to your device for easy access. |
2. Convert PDF to Image with Adobe Acrobat DC
Adobe is a powerful tool for converting PDF to JPG. It's straightforward, and you don't need any special software or hardware. Here's how to do it:
Open PDF in Acrobat DC.
Click "Export" in the upper-right corner of the window.
Select "Image" from the list of options, then choose your desired format (JPG, PNG, TIFF, etc.).
Click "Export".
Adobe Acrobat DC provides a great tool for easily interpreting PDF to images offline. However, the conversion process itself may take several minutes depending on the size of the file. And paying for this can be overwhelming.
3. How to Turn PDF to JPG offline with the Snipping Tool
It is an efficient approach to turning PDF into JPG without the use of the internet. Look how you can do it:
Open the PDF in any preinstalled app.
Choose from one of the four snipping modes: Rectangular, Free-Form, Window, or Full-Screen Snip. Select the area you wish to convert.
Once you've selected the area, the screenshot is automatically saved to the clipboard.
The Snipping Tool can be a useful mean to save PDF as JPG on Windows OS, nevertheless, it may not be suitable for everyone. If you have a large file or need to process several PDFs in bulk, you may want to consider other methods.
Why Convert PDF to JPG?
PDF is a file type that contains text and images that are easily edited and formatted within the document. JPG is a compressed image format that is not as easy to edit unless you are a designer. Sometimes the difficulty of editing a photo is just what you need. That's why you may need to learn how to change PDF to JPG offline. However, there are more reasons to turn PDF into images:
If you are creating a presentation, or if you want to share a PDF with someone who doesn't have the software needed.
It can also be helpful when you want to use an image from a PDF in another project. For example, if you need to create an infographic, or to extract an image from a PDF and add it to a website or blog post.
PDF to JPG converter can help reduce the file size of the documents. This is especially useful when sending large documents via email or uploading them to web hosting services.
If you want to preserve the original quality of the images and graphics, it's usually best to convert them from PDFs into JPGs. This is because JPGs maintain their original resolution and colors better than other file formats such as PNG or GIF.
In short, converting PDF files to JPGs can be beneficial for many reasons; whether it's for sharing documents with others, preserving the view of your images, or compressing file sizes.
How to Convert PDF to JPG Offline: Conclusion
Information is not always needed in a PDF file; sometimes it is easier to work with images, such as JPGs or JPEGs. Although there are ways to convert PDF to JPG online, it requires a reliable and robust Internet connection. If you are going to travel or have unreliable and unstable WiFi or coverage, PDF Candy Desktop is a standalone tool that will allow you to convert PDF to image on your Windows device. It's free to download and is easy to use while keeping your data safe.
What else you can do on Windows OS